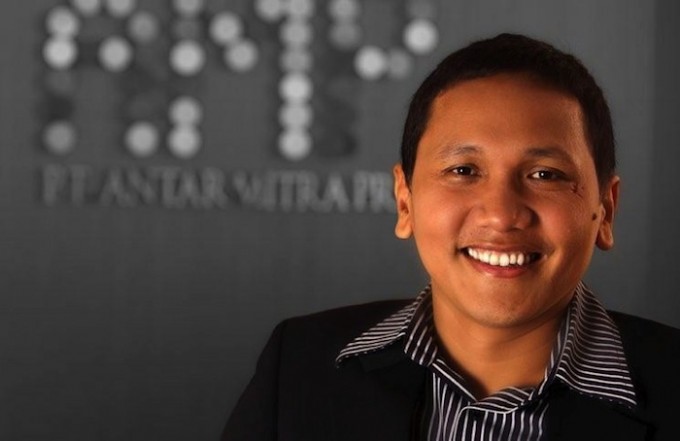 I met Joseph Edi Lumban Gaol, founder of M-Stars Group, in Jakarta, Indonesia. M-Stars is one of Indonesia's pioneer mobile content providers; founded in 2000, it currently employs more than 150 staff and has five subsidiaries under its wing (AdStars, VOX, dr.m, PoPs, and m360). Joseph started his career in the mobile scene in 1997 at XL Axiata, one of the largest Indonesian telcos, and rose to become a senior product manager. He held that position for two years and eventually called it quits in 1999 to start out on his own.
His startup journey
Joseph started M-Stars as an application service provider to BCA bank, one of Indonesia's largest banks. Its service enabled BCA customers to do banking transactions through their mobile devices. That was in 2000 and M-Stars was the first to provide this service. It was not an easy start, Joseph said, because it was extremely tough to get a bank to work with any company, least of all a startup. Nevertheless, he knew he had to get through this barrier of entry to achieve a breakthrough and he came up with a way to do it. He explained to me:
Before I got the bank to work with me, I had an MOU with XL to start this new service as a value added service. With this partnership in place, M-Stars and XL (a trusted telco) then jointly approached BCA to have this service as their new e-banking channel.
As for how he got the MOU with XL, Joseph said he pitched that the telco would become the first operator to launch secure mobile banking for its customers. Plus, working with BCA, who at that point of time had eight million customers, could improve XL's brand image and set it apart from the competition.
The breakthrough
Despite the partnership with XL and the value proposition being offered, it took nine months before the bank finally agreed to commit. This seems long but it was definitely a worthwhile wait. The partnership set M-Stars into uncharted but lucrative territory that has a high barrier of entry.
However, the partnership did not last long. M-Stars was forced to exit in 2005 as the bank wanted to control the service itself. As it was a forced exit, the terms given were not great. Joseph felt he had to sell his stake in the partnership as M-Stars had little leverage to negotiate for a better deal. He sold the whole system to BCA and cashed out. Luckily for Joseph, prior to the forced exit, M-Stars had already ventured into becoming a mobile content provider to telco companies and had already developed a substantial revenue stream. Without that, the cancelled partnership might have killed M-Stars itself.
After that, M-Stars focused on providing mobile value-added services such as ring tones, music, news, lotteries, etc. At the same time, it partnered with another bank, BNI, to provide a service similar to what it had previously offered BCA. In 2008, Joseph went on to start up VOX, a mobile micro-banking system for phone users in Indonesia that now has 12,000 merchants and around two million people who hold a bank account with them.
Intrapreneurship
Joseph is not a lone wolf, and he also encourages intrapreneurship in his company. Employees are encouraged to think out of the box and given funds and equity if their ideas are good. Companies started up from M-Stars include:
AdStars, a digital advertising network that focuses on premium publishers in Indonesia.
m360, a company that provides digital media training services to its clients.
Dr.M, a service that helps digital record labels and artists manage their digital community, offline fanclub, and promotional activities.
PoPs, a platform that delivers digital entertainment content to mobile and internet audiences.
Money troubles
But it wasn't all a smooth journey. Besides all the red tape he had to struggle with when dealing with banks and telcos, he told me that the finance part of starting up was especially tough. The company depended entirely on him and his co-founder's savings to operate – which wasn't a lot. He dreaded payday.
On some occasions I had to borrow money from family and friends when the cash flow was low, especially to pay employees. This was one of the toughest challenges psychologically, as I had to pledge my credibility to them and spend sleepless nights making sure cash flow was positive and that loans from friends and family weren't defaulted. Remembering those days now still makes me smile.
The founders also leveraged their strong network in Indonesia's mobile industry and did consulting projects to bring in cash. These projects generated quick cash and sustained the company till it clinched the lucrative partnerships with BCA and XL. His startup finally broke even in its seventeenth month of operation.
Through Joseph's entrepreneurship journey, I see similarities to many Asia startups: taking up consulting and outsourcing projects to stay afloat while working extra hours to build a product of their own. I believe this approach to being sustainable and having a greater plan for your startup is very much needed for startups in this region as investment and angel funding is not widely available in many parts of Asia.

Facebook Conversation
comments