Personally, I like planning trips. My copy of the Lonely Planet China guide is pretty dog-eared at this point, and I rarely travel anywhere without taking the time to build a detailed itinerary for myself (although I don't always go by it once I'm actually on the road). However, some people don't like trip planning, and for them, there's Traverik. Traverik is an Bangalore-based travel startup that will build your itinerary for you based on the places other travelers liked. In a way, it's like crowd-sourcing your travel plans!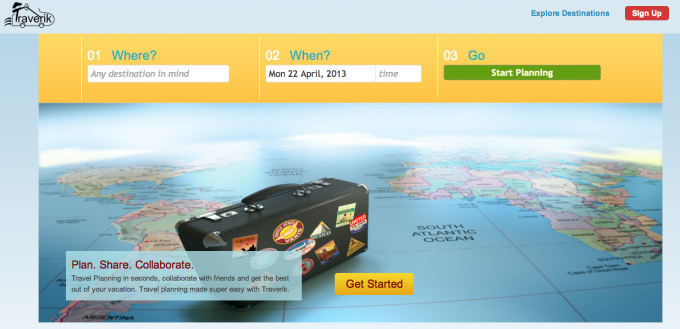 The best part of Traverik right now is probably how easy it is to use. It's ridiculously simple. You just pick a destination and a date, and then Traverik will spit out an itinerary for you. From there you can switch things around, add or subtract activities, and even invite friends to work together on the itinerary and plan collaboratively.
The downside is that at least right now, Traverik doesn't give you an itinerary so much as it does a list. For example, when I chose Beijing as a destination, Traverik spat out a list of pretty good places to visit, but they were sprawled all over the city and the way Traverik had ordered them would make getting from one to the next very inefficient. There are also no times supplied, so it would be tough for a visitor to know whether they should set aside 30 minutes or 3 hours for the Temple of Heaven (for example). The site also doesn't seem to include many scheduled activities yet; most of what's on its activities list are year-round attractions, so Traverik travelers aren't going to be aware of any seasonal fairs, sporting events, or performances that might be going on during their trip.
The site just launched in beta last Septemeber, says co-founder Abhishek Deo so the company still has a lot planned for the future, so some of these problems will inevitably be rectified as the site is further developed. "We already have theme based itineraries for different cities aka, Honeymoon, outdoor, arts & culture etc.," Deo told me. "In due course of time, holiday events & festivals will also be a major planning base for users."
The company is also working on an Android app — that's coming this May, Deo says — and other cool things like making bookings directly through the Traverik site and integrating the professionally-planned itineraries of tour agencies into the site's offerings. As an total trip planner, I don't think Traverik is quite ready for primetime yet, but it's already a great way to see what activities are popular in whatever city you're planning to visit, and once some of its new features are rolled out, it really could become a one-stop-shop for all of your travel planning needs.
(In the meantime, if you're looking to plan a trip right now, I might recommend another Indian travel startup called Triptern, which we looked at back in February).

Facebook Conversation
comments