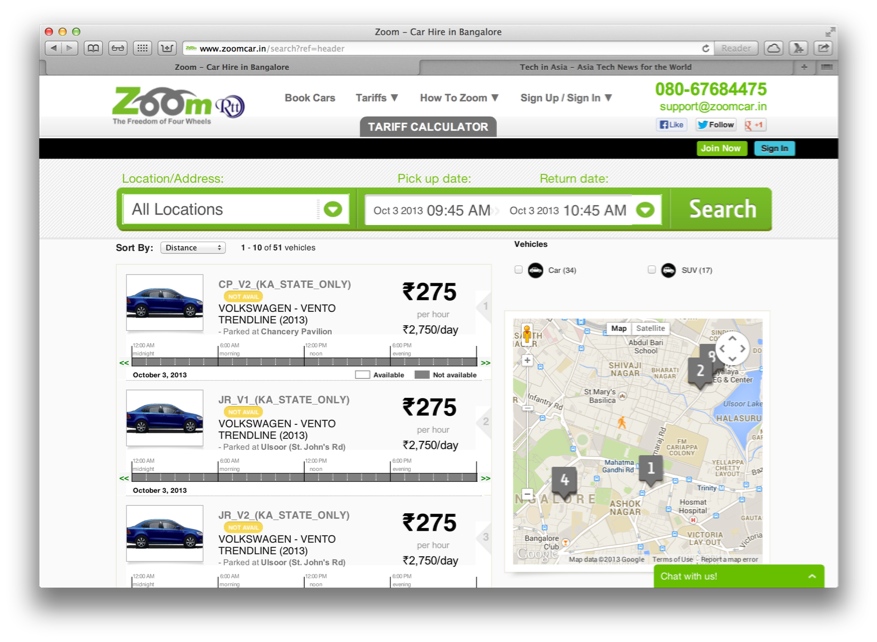 Self-drive car rental service Zoom has revealed today that it now has an extra $1 million in seed funding to accelerate its business. Now Zoom has raised a total of $1.6 million in early-stage investments.
Zoom is currently restricted to car pick-ups in Bangalore and has 52 vehicles available, so it's still early days. It has apps – though fairly basic ones – for iOS and Android that can show you nearby cars for rent. Its fleet has a mix of cheap and mid-range vehicles, from a homegrown Mahindra Reva E2O (an all-electric vehicle; pictured below) to BMW 3-series models.
Zoom's rates are either hourly or daily, going from $3.20 per hour for the Mahindra, up to $16 per hour for the BMW. That covers fuel, insurance, and other necessities.
Weird angels
The Bangalore-based startup's newest haul of seed funding was led by New York-based Empire Angels, with some participation by earlier investors. Alongside San Francisco-based VC firm Funders Club, Zoom has also drawn interest – and cold, hard cash – from some peculiar angels, including former US Treasury Secretary Larry Summers and former US SEC commissioner Lady Barbara Judge.
Zoom is an India-focused subsidiary of American firm Zoomcar, startup up by David Back and Greg Moran.
There's plenty of competition in the car hire sector in India, from local firms like Self-Drive to global chains like Avis. Zoom is trying to be more flexible and smartphone-connected than those rivals. If you fancy sitting in the back seat instead, chauffeur service Uber is now operating in Bangalore.
(Source: TechCircle)
(Editing by Paul Bischoff)

Facebook Conversation
comments