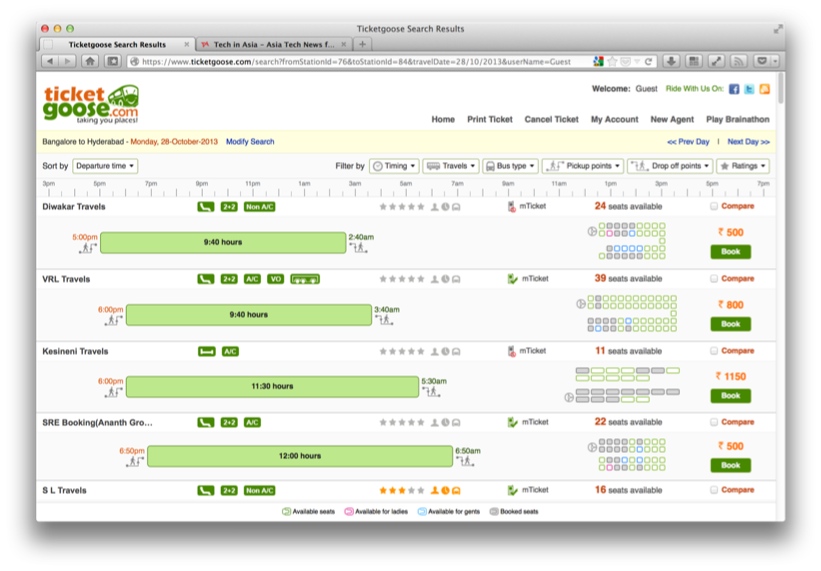 There's more choice than just Redbus if you want to snag bus tickets online in India. One strong rival, TicketGoose, revealed today that it now has $2.9 million (Rs 18 crore) in fresh funding to help grow its business across the country.
TicketGoose covers 700 bus operators across 10,000 routes that go to 4,500 destinations across southern India. Though Redbus is the market leader for web-enabled bus ticketing in India, TechCircle notes that TicketGoose actually covers more ground in Tamil Nadu.
Last year, the startup was processing 4,000 to 5,000 ticket bookings a day, which led to $8.19 million in sales revenue for that year. The team is aiming at $20.5 million in revenue for 2013.
TicketGoose raised two rounds of seed funding before, and this $2.9 million injection is far and away its biggest boost. US-based investor Indventure led the funding round.
Rival site Redbus was acquired earlier this summer for a price-tag rumored to be north of $100 million. That has boosted the credibility of all travel-oriented startups in India.
(Source: TechCircle)
(Editing by Josh Horwitz)

Facebook Conversation
comments