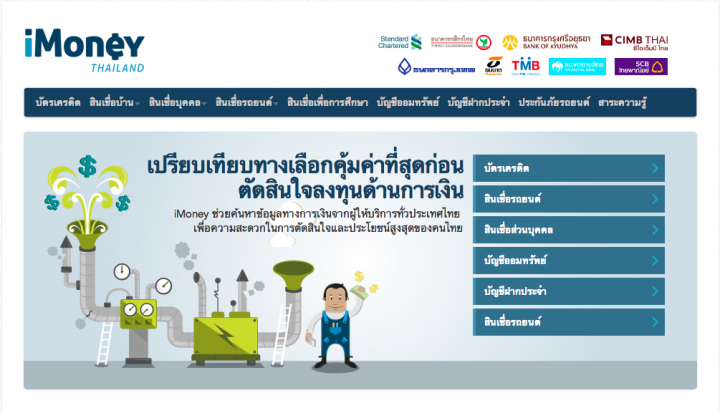 iMoney, a Malaysian startup, is a free online personal finance platform that helps users make comparisons between loans, credit cards, savings, and other banking services. It aims to make these complex products simpler and easier to choose between, and promises users a neutral, unbiased viewpoint from which to judge different banks' services.
In June, it raised funds from Asia Venture Group (AVG). Since then, it has expanded beyond Malaysia to five other countries; Singapore, the Philippines, Thailand, Hongkong, and Indonesia. According to Lee Ching Wei, iMoney's co-founder and group CEO, these expansions all happened within a week.
Thailand is the first iMoney office outside of Malaysia
Tech in Asia got to sit down with Ching during his visit to Bangkok last week. When asked about the funding, Ching explained:
Thailand is one of the main countries we want to focus the investment in. Thus, Thailand is the first office outside of Malaysia for iMoney.
The company explains that this makes sense in terms of opportunity, population, and internet behavior. The number of Thai netizens is greater than the whole Malaysian population, added Ching. The next office that iMoney will be opening is in Hong Kong.
Regional problems
Ching also explained the reason he started iMoney:
I came back to Malaysia from Australia. I had no bank accounts or credit cards. That's when I started doing my research and found the problems; there was no website acting as a hub to host all the bank info. You have to visit each bank's website individually. It was a pain.
That's when he decided he wants to create something to help people compare and choose bank services. He sees this as a regional problem.
Ching added:
More and more people expect this service. Comparisons have been helpful. We talked to banks. They were very surprised to see their competitors' numbers on our site. They use our site to improve their business. In Malaysia, we know for fact that banks use us to compare with competitors.
Positive feedback
So far, iMoney has received good feedback from around the region. The first reaction is normally one of surprise. Many people ask the team: "How do you get this info?"
iMoney is also building an online community. The iMoney Thailand Facebook page has over 1,000 fans already, which is impressive considering the site was only launched in July. It had 1,200 site visitors in the first month. Now it has over 2,200 total visitors. That number might not be that big right now, iMoney sees a 20 percent increase in visitors each week.
In both Malaysia and Thailand, users tend to come directly to the site rather than finding it via search engines, said Ching.
Learn from other markets
In the future, iMoney Thailand plans to give a big push in marketing its brand, but for now the company wants to focus on content and technical issues. Ching explained:
What we do well in Malaysia can be replicated here (in Thailand). We have to create a good product and focus on content that people want to see. Infographics are something that we use a lot. It's easier for non-finance people to understand. We use good content as a base to get traffic.
Clear goals
iMoney has a clear idea of what it wants to achieve. It wants to be the number one website for banking consumers. It expects to get at least 100,000 unique visitors in the next six months. And Ching added "With our potential, we believe we can do that. We know what we want to become. We see a clear problem and we want to solve it".
However, the company is aware it is not that simple. There are challenges. The market is not that transparent just yet. Collecting info can be time consuming. There's no substitute for going to a bank and asking for their information. Sometimes, the bank's sales representatives take a couple days to get back to the team.
iMoney, as a platform that connects consumers to financial institutions, is and will always be free for consumers. That's the business model. It makes money from commission from the banks.
However, Thai law will be a tricky obstacle for this business model. In Malaysia, users can click to apply for loans, credit cards, etc. directly through iMoney by clicking "agree" on the website. However, in Thailand, that won't work because clicking on "agree" to the terms and conditions is not considered an official consent and cannot be used in court. A real signature is needed for every application. Therefore, online application is not a function that will be available in Thailand.
(Editing by Charlie Custer, Steven Millward, and Paul Bischoff ) 

Facebook Conversation
comments