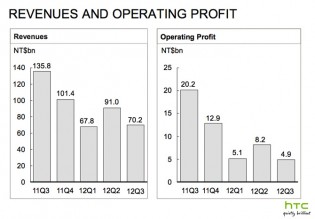 Things aren't looking good for Taiwanese smartphone manufacturer HTC (TPE:2498). If you look at the chart from HTC's Q3 results deck (see right), you can see how revenue and profit just kept sliding.
The forecast for 4Q12 is set at NT$60 billion ($2 billion), an expected 14 percent drop compared to this quarter. With the holiday season and crazy Chinese buying habits for 11/11, numbers should go up. But probably won't be the case for HTC as it has predicted its own fate.
An IDC report released yesterday showed that HTC shipped about 7.3 million units in 3Q 2012, which represents four percent of the smartphone market share, a six percent drop compared to the same period in the previous year. Meanwhile just north of Taiwan, Korean giant Samsung has a whopping 31.3 percent market share for 3Q 2012, a 8.6 percent gain compared to 3Q 2011.
Is HTC screwed? Things certainly don't look good. But there is a glimmer of hope for the company, at least, and it comes in the form of its slick new HTC J Butterfly. So far it's only available in Japan (we had a look at it at a KDDI event recently), but leaked images suggest that it could be making its way to Verizon in the US market soon, where it would go head-to-head with Samsung's flagship model, the Galaxy S3. [Via Wall Street Journal, TechCrunch]
[Download image version of chart]
Have Your Say!