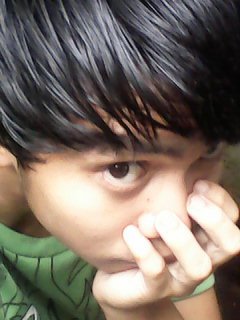 In leadership theory, they call it the 'first follower' effect.
Just get one other person to support what you're doing. That's all you need to start a movement, drive change or in the case of Ryan Cepada – become a Philippines social network's biggest viral star.
Ryan is a 20-year old student of architecture in the remote province of Bukidnon, located on the island of Mindanao. How remote? There are no airports in the province, and both computer and internet access is patchy, at best.
But before we say anymore, it's best if you listen to the sound of his voice:
In late 2012, armed with a Nokia C3000+ and a regular headset, he began posting snippets of self-composed songs to Bubbly, a voice message social network we've written about before. Think of it as Twitter with voice.
He told exactly one person, his cousin, to follow his Bubbly ID.
That was enough. Less than six months later, he now has 220,000 followers, making him the number one celebrity on Bubbly's network (beating out local heavyweights like rapper Loonie).
Artie Lopez, the country manager for Bubbly who managed to track Ryan down to his hometown, says: "Several people started texting him, calling him, and sending their likes and comments on Bubbly. He was so surprised, people from all over the country were sending in their praises and inspirational messages." He adds:
Messages like "I love your songs and voice!", and "I listen to your songs every night before I go to sleep", and "Your songs inspire me to follow my dreams". He literally got a SMS every second his phone was turned on.
What started as a distraction, a way to background the chronic financial troubles of his six-member family, was now the centrepiece of his creative life (Ryan also sketches and designs stickers, occasionally posting them to his Facebook page).
Ryan wasn't always a singer. Initially, he'd used the Bubbly network for a rather curious phenomenon that Artie Lopez calls a 'text clan'. Texting is a political tool in Mindanao, a province that has seen violent internal clashes and separatist movements. "[Ryan] was part of a "war clan" where people would bash and battle with each other on SMS, posting 'battle' voice messages – making fun of people, swearing at them, and just basically trying to stir up trouble." The switch to music came after his disillusionment with the clan, and an acknowledgement that this constant confrontation was making him irritable and rude.
The songs were also the perfect medium for his busy schedule. Ryan juggles two jobs, a daily three-hour commute and various shopping errands around his hometown. He composes early in the morning and between jobs, taking a quick break to tap out tunes with spoons and table-tops in his family-owned eatery for percussion. Most of his output seems to converge on the sappy love song genre, as he explains in an interview to a local magazine:
My favorite and my inspiration is Westlife. I love a lot of bands, but they are my favorite. I also like Bruno Mars as a solo artist.
Ryan's story is a heart-warming counterpoint to the slickly produced, almost mainstream business of producing viral hits today – a reminder that the gear doesn't really matter. All it takes is heart, sincerity and that all-important first follower.

Facebook Conversation
comments