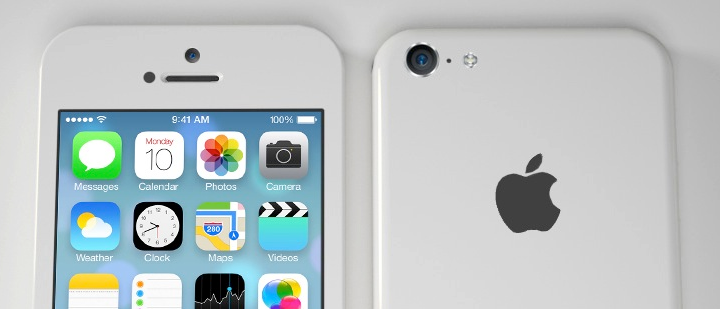 Unless the world is being trolled by a factory that makes plasticky phone bits, Apple (NASDAQ:AAPL) will unveil a budget smartphone, seemingly called the iPhone 5C, at its annual product refresh event next month in California. The iPhone 5C, so goes the word on the street, is meant to be a cheaper point of entry to Apple's ecosystem, a challenger of sorts to the diverse price points of the Android devices that now dominate in most countries. But how cheap will the 5C be?
(Update on September 11: It turns out Apple's idea of the perfect price is the same price that the old iPhone 5 would be sold for anyway. So the new iPhone 5C will be RMB 4,488 ($735) in China.)
A recent survey carried out by AlphaWise on 2,000 smartphone users in China shows that the price sweet spot – that balance between expensive and acceptable – for the iPhone 5C would be RMB 4,000, which is $649. That's RMB 1,288 ($209) less than the entry-level iPhone 5 at its official, unlocked price in China.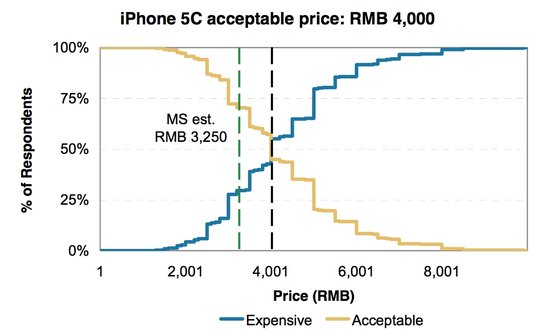 Why $649 is still way too high – especially in China
But, for China and many other semi-emerging markets with a strong group of middle-income consumers, $649 is still not quite budget enough. If the iPhone 5C were to be priced at $649, that's still double the price of the flagship Xiaomi phone, the Xiaomi Mi2S, which is RMB 1,699 ($275) for a plastic-cased but fairly well made Android smartphone with a 1.7 GHz quad-core Qualcomm Krait 600 processor.
That balance of strong specs with a great price is the main reason that Xiaomi, which has only been making phones for three years, is now outselling Apple's iPhone in China.
Take a look at this chart to see how it'd fit in among popular smartphones in the Chinese market: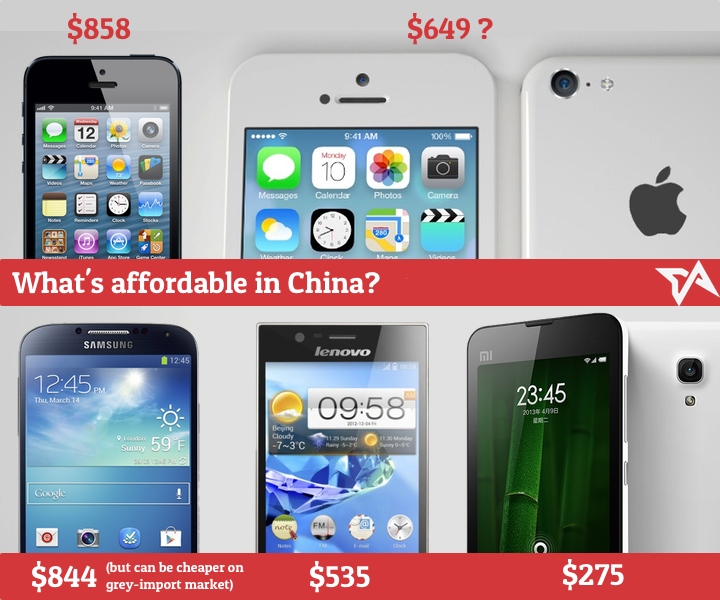 Let's pick a more aggressive price
While Apple is never one to go for the lower-end of the market, that survey's suggested price will leave the plastic model nearly triple the price of similar plastic-shelled Chinese brand phones. What can it achieve at that price? What value or meaning does it add to consumers at $649? At least the existing iPhone 5 makes its case with a premium look and iconic design – but an iPhone 5C doesn't bring much to the party at a price that's only a couple of hundreds bucks less than the flagship iPhone.
Though it's extraordinarily unlikely to happen, I'll put my neck on the line and say that a budget iPhone would actually have to be fairly cheap to make an impact on Android uptake. Something like RMB 2,999 ($485) – just enough of a price premium over homegrown rivals so that everyone around you on the subway ride to work knows you're spending more, but a very clear half the price of the flagship iPhone.
Hit the comments with your suggested sweet-spot price for the 5C.
(iPhone 5C rendered image from MacRumors)
(Editing by Anh-Minh Do)

Facebook Conversation
comments