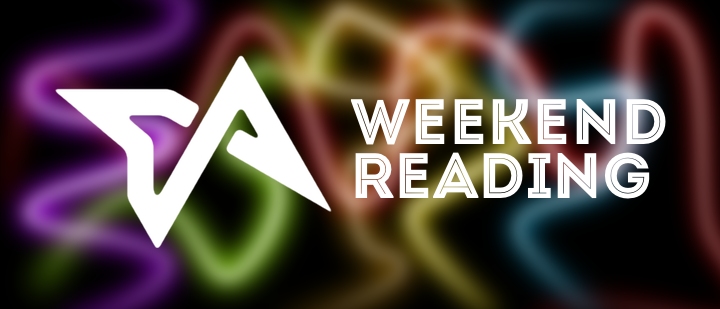 Missed out on the best Asia tech news from the past seven days? Worry not, we've got you covered. Here's our roundup of the week's top stories, sorted by popularity.
---
We have received a letter of demand from Drew & Napier, the law firm representing Garena CEO Forrest Li, demanding that we remove an article about him.
---
Jack Ma says that recent advances in big data will make B2C business models obsolete. Firms must customize their products or die.
---
A Japanese artist was arrested in Tokyo for distributing 3D printer data that could be used to print her private parts.
---
Although How To Start a Business Without Any Money was published in 2012 (a lifetime ago in our frenetic, tech-driven existence), the book is aging gracefully and still remains relevant today. Written by former Sunday Times enterprise editor Rachel Bridge, How to Start a Business Without Any Money is full of useful information for fledgling entrepreneurs, and reads like a laid-back, 21st century peice of advice from one friend to another.
---
Meet Valerie Wagoner, co-founder and CEO of ZipDial, an India-based startup that wants to be the Google Analytics of the offline world.
---
Despite scooping up Hugo Barra, Google's former Android VP, Chinese phone-maker Xiaomi is still terrible at Android updates. Check out this chart.
---
Investors in this round include Facebook co-founder Eduardo Saverin, Garena, SoftBank Ventures, and Visionnaire Ventures.
---
Shuhei Morofuji and Hideki Fujita are moving to Singapore. Their $10M fund will mostly target seed and Series A cross-border startups in South East Asia.
---
As WeChat slowly opens up to the world, no developer that wants to break into China should write it off as too closed to consider.
---
William Saito discusses the state of Japan's startup ecosystem, what's holding it back, and how it can eventually thrive.
---
Kawal Pemilu looks to be the most professional crowdsourced team counting votes in Indonesia's troubled 2014 general election.
---
QR codes are a bridge between offline and online in the smartphone age. Here are seven great QR code marketing examples from across Asia.
---
Free messaging app Hike, the Indian answer to WhatsApp, Line, and WeChat, has hit number one on the Google Play Store in India, toppling WhatsApp, and Facebook.
---
Public images of Brunei's Sultan Hassanal Bolkiah Hassanal Bolkiah, Sultan of Brunei, is one of the world's richest men and has a reputation not just for his luxurious lifestyle and his collection of more than 7,000 exotic cars, but also for his aggressively conservative stance on the Islamic state religion. On May 1, Brunei became the first country in Southeast Asia where the Islamic legal system is enforced on a national level when Bolkiah implemented Sharia law in his small country of only 420,000 people.
---
Companies like Fab and Fancy carry the torch for US-based startups that turn a designer's eye towards traditional ecommerce, but what's out there in China for customers looking for that one-of-a-kind touch? Maybe nothing of that stature just yet, but Beijing's Yetang, which announced today it raised a seed round of under US$1 million from China's IDG Capital Partners, could reach equally great heights in the future. Yetang's premise will sound familiar to anyone who prefers Etsy to Amazon.
---
Founder Robert Laing will be on stage for a fireside chat, where we'll warmly welcome him with burning questions like, "Why can't I just use Google Translate?"
---
A wardrobe configurator is one example of the many innovations at Indian furniture etailer Urban Ladder, which has just raised US$21 million.
---
Xiaomi Mi3 is priced at INR 13,999 (US$232) in India. That makes it far cheaper than Samsung's top-selling phones with similar specifications.
---
GrabTaxi executive and part-time model Natasha Bautista shares what it's like to be an attractive woman in tech.
---
Natali Ardianto, Co-founder and CTO of Tiket.com Natali Ardianto used to be bad with people. But you would never guess it from the way he carries himself today.
---
For other ways of reading us, try our tailored RSS feeds, or find us within Flipboard.
This article refreshes daily. Check back often to see what's the latest on Tech in Asia.

Facebook Conversation
comments