How does the idea of being able to pinch to zoom on a screen, without it being a touchscreen, sound to you? Now a new device, Haptix (video above), says it has the capability to turn any surface into a multitouch screen, and the experience is supposedly close to what one would expect from smartphone and tablets.

Created by Singaporean Darren Lim and Chinese Lai Xue, Haptix has 3D sensing to make users be aware of where their fingers are on the screen without actually touching the surface itself. So now users can interact with their personal computers via the 3D multitouch by – as Darren puts it – "using multitouch and a mouse at the same time".
How it works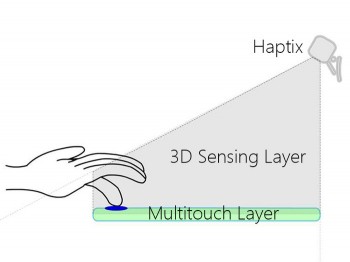 Haptix detects any flat surface and turns it into a multitouch surface by using 3D sensing to track the user's hands (illustration pictured right), satisfying your sense of touch while allowing you to control what you see on the screen. Lai Xue elaborates:
Haptix is based on completely radical algorithms in computer vision and image processing. We've taken virtually every conventional method in this field and formulated better techniques to take their place. The usage scenarios and conditions for Haptix, especially as a very affordable consumer device, called for different technology from what's out there today.
Trying to imagine how it works, I thought it might require a wee bit of education and getting used to. But Darren assures that one will get familiar with it pretty quickly. He explains:
There definitely was a short learning curve for early testers, but they grew familiar with it pretty quickly simply because it feels like a multitouch screen or a trackpad (different modes are available). The only difference is that the surface is different (a keyboard as opposed to another surface), but the functions are exactly the same (clicking and pinching actions). You can still type on the keyboard, but now you can also touch it like a multitouch pad.
And according to Darren, the lag time is almost negligible, but the duo are working on streamlining it, especially for slower operating systems.
How it will look
The Ractiv team, who are also makers of the new device, have designed it as a bar that users will clip onto laptops. Users can control their cursor without needing the trackpad or mouse, but when the keyboard is in use, Haptix will be deactivated.
How the idea came about
The idea was developed in response to the issues Darren and Lai Xue met with multitouch and 3D sensing and wanted to materialize the idea of multitouch on any surface. They initially thought of using lasers, but eventually came to a common consensus that 3D sensing was the best solution.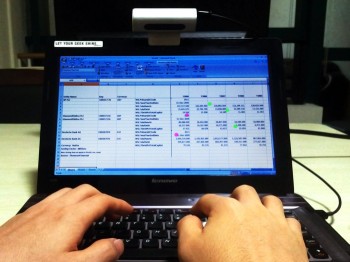 They then created the product with different audiences, such as designers, gamers, and people who work with data, in mind. Darren tells me:
Designers were definitely one of them, another group are people who work with data. Accountants we've talked to mention that their favorite laptop is the Thinkpad, simply because of the red trackpoint nib in the middle of the keyboard. That way, when they work with Microsoft excel sheets, they do not need to keep moving back and forth to a separate mouse when they work with different cells (pictured right). That's exactly the experience you get with Haptix (think: not moving away from keyboard) and the intuitive multitouch gestures as well.

Gamers are another target audience for us. Haptix makes it possible to play first person games (or games that generally require a mouse) entirely on the laptop, since you can turn your hand into a mouse and place it on top of your keyboard.
Who are Darren Lim and Lai Xue?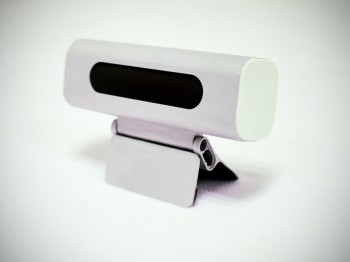 They are pretty young; Darren is just 20 and Lai Xue is 21. Darren is a 2013 Thiel Fellow, and his partner Lai Xue was said to be the youngest engineer at Intel. They met when they were studying at a high school in Chengdu.
They have been developing and getting more hands to help at the Ractiv team for the past year. In order to finish and finance the final production phase, the team has also taken to crowdfunding platform Kickstarter to raise $100,000. Lai Xue added:
A change in how we interact with computers is long overdue, and we hope others will find Haptix as useful a device as we ourselves have.
For early birds in the campaign, $59 will allow you to get a Haptix the moment it is ready to ship. If you would like to support them, do visit their crowdfunding website here.
(Editing by Charlie Custer)

Facebook Conversation
comments