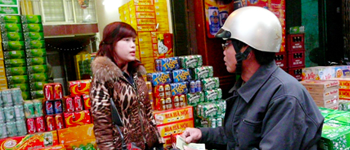 Two weeks ago, Vietnammm, one of Vietnam's premier food delivery sites, got acquired by Dutch company Takeaway.com. Last month, GetNGo.vn launched the first ever online coffee delivery service in Vietnam. Just a few months ago Foodpanda.vn via Rocket Internet entered the market as well. Vietnam's food delivery market is hot, and it just got hotter.
Suma.vn, which launched just this week, is entering a new category of food delivery: groceries.
The founders behind this new site are Anders Palm and Uyen Vu, the same folks behind the food delivery site, Eat.vn, which was picked up by VC Corp last year for about $130,000. Along with the deal, Palm and Vu have been working with VC Corp on building up Eat.vn and are now launching Suma.vn. According to Anders, the site will target expats, much like Eat.vn did in the beginning:
We are not trying to create a complete online supermarket at first, but rather a selection of products that customers buy frequently. Our main target is expats at first, just like what we did with Eat.vn, although we have a Vietnamese version from day one.
Suma.vn is not new to this market. The big local supermarkets have attempted to do this, but their user interfaces and logistics are unreliable. They've had a hard time transitioning from an offline business to an online business.
There are some Vietnamese online supermarkets, and I tried to order from a few but have never managed to get anything delivered, so I am not sure how serious they are. For English language competitors, I don't know of any in Vietnam. We have a few hundred products right now, but will add more quickly according to customer requests (already coming in), and this will be my main focus together with Eat.vn.
Palm will be using his Eat.vn team to run the execution in the beginning and will expand the team later.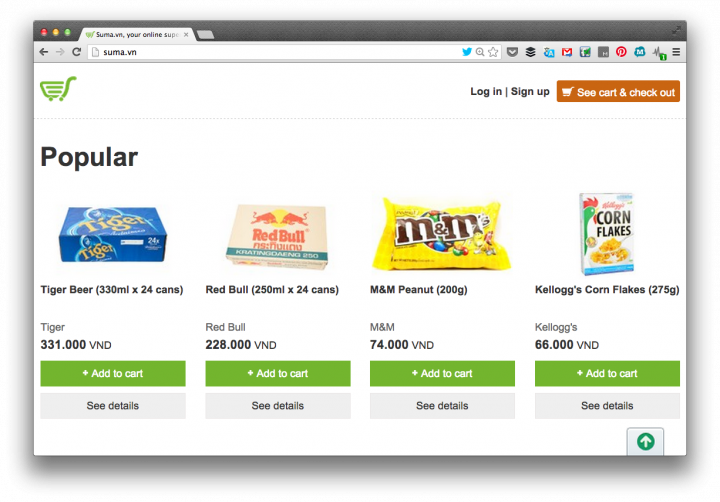 Selling beer online, Hurray!
The site does one thing never done before in Vietnam: it sells beer, and at a very low margin. It's therefore quite convenient for drinking folks to order more beer at home.
Alcohol, according to Decree 94 of Vietnamese law, is illegal to sell online. Palm explained that his legal team have found that it is okay (maybe they found a loophole?), but the site will stay away from selling other goods like tobacco. Either way, it's good news for beer drinkers across Ho Chi Minh city, who would love to have it shipped straight to their household instead of going out on the streets on a motorbike to manually fetch a box of beer for a party.
Disclosure: I drank beer with Anders during the World Cup in 2010.
(Editing by Paul Bischoff)

Facebook Conversation
comments