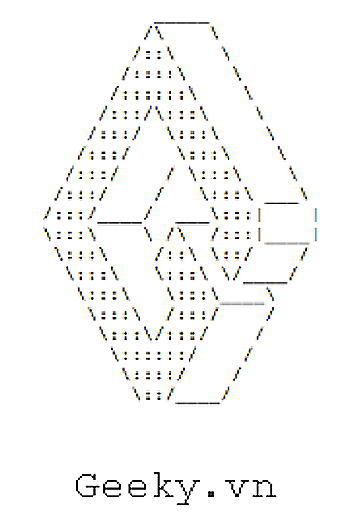 Finding good and great engineers for your company is a tedious and unsure process. Google and Microsoft are both well known for asking questions like: "How many golf balls can fit in a school bus?" or "How much should you charge to wash all the windows in Seattle?" Questions like these stump would-be geniuses and allow Google recruiters to see how applicants think. This rigorous process has clearly given Google some great results as they remain one of the most dominant technology companies of the decade. But there's still space to innovate on engineering recruitment and that's what Nguyen Tuan Anh is set on doing with his new site, Geeky.vn, which launched just this week.
When you go to the website, you'll see the usual website introductions, but at the bottom of the screen, you'll see what appears to be a command line function. For those of you non-engineers, think MS-DOS back before the days when the graphical user interface was introduced to the masses. Any user can type "help" and access the entire command line interface.
The concept is simple: engineers have to code their way through the website by passing levels. The website is organized into seven levels. After three months, the engineer that can pass all the levels will receive a total of VND 50 million ($2,400) in cash. You can only pass on to the next level by writing code that solves a particular set of problems which tests the engineers' true coding ability. All of the code is logged into the Geeky.vn logs and recruiters and the Geeky.vn team can see every line of code and when they coded it.
Tuan Anh, Geeky.vn's founder shared with me more:
The thing about engineers is, a resume, degree, and interview is never a good indication of how good an engineer is. You have to see it in how they code, how they deal with problems, and their willingness to outsmart and solve problems. For example, with one of our Geeky prototypes, one engineer solved a coding puzzle over the course of four hours from late 1am until 5am in the morning. And I could see how many times he had attempted to solve the puzzle. It shows that he tried really hard and he's a good engineer. This guy actually went on to be a CTO.
So far, after a week, the site has 150 users and no one has passed level one yet. Next week, the team will be rolling out level two. In June, Geeky.vn will hold its final offline event where the team will roll out its final seventh and hardest level where only the top engineers will be invited to solve the hardest puzzles.
The idea came to Tuan Anh when he was working on HR solutions for companies who need good developers. He said, "it was really hard to look for good engineers without wasting time and money, so I tried this method and it worked really well, so I thought others may benefit from that."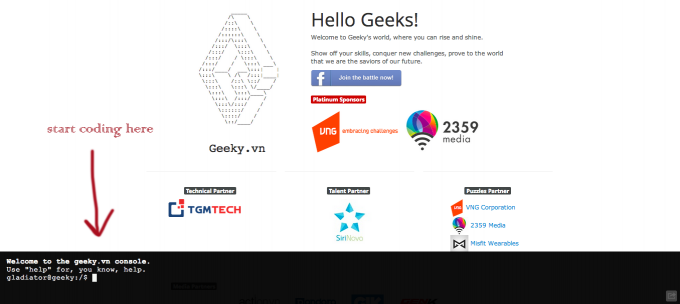 The cool thing about the project is that it's getting local support from big companies like VNG, 2359 Media, TGM Tech, Siri Nova, and Misfit Wearables. The project is built by a team of engineers, so they understand what it takes to suss out what all the good engineers. In the future, Tuan Anh is looking to grow this into a viable recruitment business.
In 2011, we covered a similar site from India called Interviewstreet.
We will keep you posted on Geeky.vn. Stay tuned.

Facebook Conversation
comments