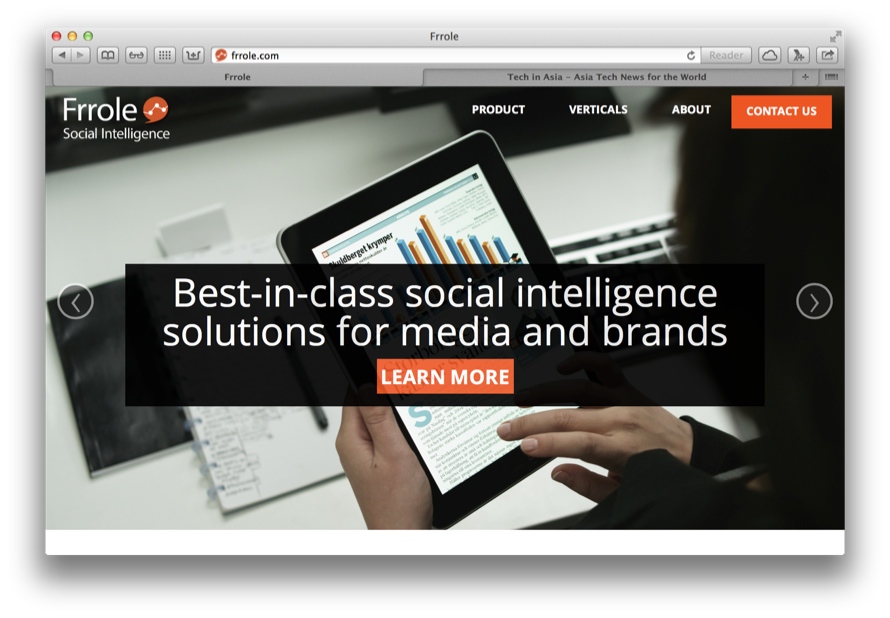 Bangalore-based social intelligence startup Frrole has launched enterprise software for the media and entertainment (M&E) sector. Amarpreet Kalkat, CEO and co-founder, announced this news on Frrole's official blog this week. Kalkat wrote:
Over the last 1.5 years, we have built a powerful semantic engine that algorithmically extracts meaningful, relevant and informational social insights from Twitter conversations. Today's launch is a major milestone for us and for the $1 billion-plus and ever growing media and entertainment industry as it will offer them unique and innovative ways of maximizing the return on marketing spends.
According to Kalkat, the new enterprise software offering will help customers to extract and curate precise content-related topics, locations, products, or campaigns, which can then be integrated with their applications.
The idea is to derive more insights using social media conversations in real-time as it happens over the Twitter platform. The Frrole software has three parts – data APIs, a visual suite, and solutions. Data APIs let users/clients access the Frrole data stream to build or plug into any application, while the visual suite allows users/clients to pick and integrate plug and play (PnP) display applications into their products within minutes. And the solutions part allows Frrole to work closely with clients/users on large projects that require complex data interactions.
Frrole's latest offering resonates the growing trend and significance of big data to gather the details and information of users, behaviors and preferences, and use all that for business decision making.
The startup emerged from the Microsoft Ventures Accelerator program in India last year. The program head, Ravi Narayan, said, "Social integration provides a huge opportunity for brands and media to engage and interact with their users when they are most vocal. Globally, companies have been able to achieve two to ten times marketing ROI by integrating social content and insights into their businesses."
For example, when GMA News created an online and on-air social experience to cover the Philippines' 2013 elections, it achieved a record breaking 21 million page-views, four times more than the nearest online competitor. Similarly, X Factor witnessed a 600 percent jump in Twitter activity after its social integration, achieving an 11 percent share of voice and becoming the most social TV show.
(Editing by Steven Millward)

Facebook Conversation
comments