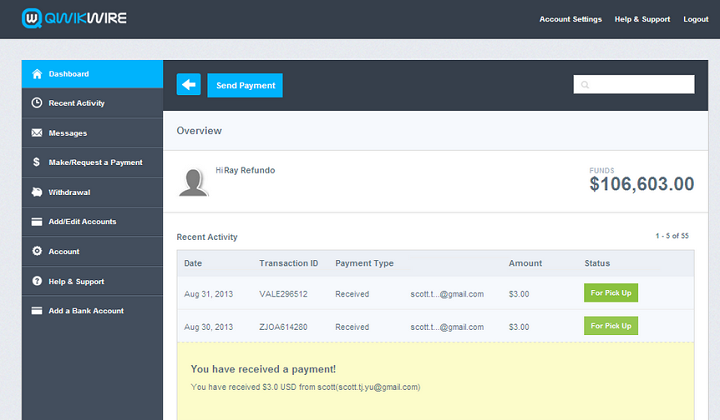 Qwikwire co-founder Ray Refundo understands the frustrations of being a freelancer in the Philippines, especially when using US-based services like Freelancer and oDesk.
While working on a project using one of those platforms, he realized that since he did not possess a bank account and a credit card, he could not open a PayPal account to receive payments.
He's not alone: only around 2.5 million people in the Philippines own either a Visa credit, debit, or prepaid card — under ten percent of the 38 million in the 25 to 54 age range.
Sensing an opportunity in this space, Ray gathered Scott Yu and Jason Foldi, his college friends at San Jose State University in California, and together with Bing Tan set out to build a company that would give more freelancers access to the global marketplace.
Shaking up online payments
Qwikwire is in beta after eight months of building. But here's how the founders envision it would operate: service providers could sign-up in minutes and receive a payment within two hours after it is sent. PayPal, meanwhile, takes two weeks in the Philippines to set up.
To issue a payment, freelancers simply send a link to clients, who then log onto Qwikwire to pay. The money would then be transferred to the freelancer's bank account, if he or she has one.
Otherwise, an on-location pickup option will be made available, bypassing the need for a bank account, although users would need to present their identification documents and a transaction code generated by Qwikwire, in accordance with money laundering regulations in the Philippines. They would receive a cash card for withdrawing the money at ATM machines.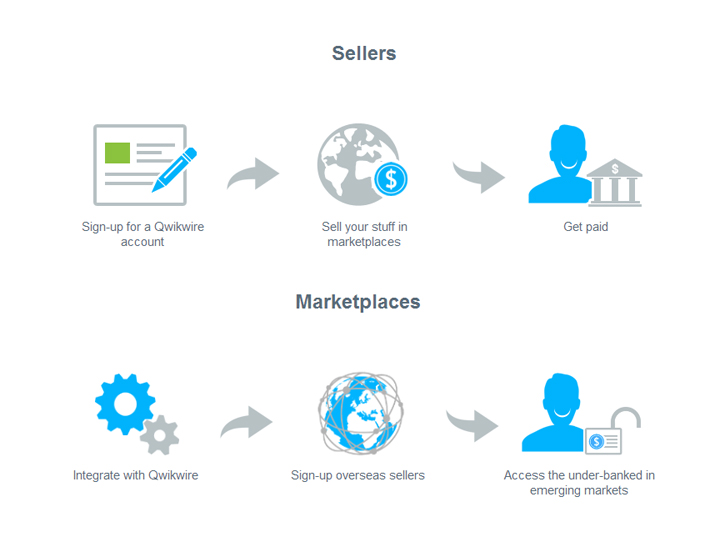 To make it all work requires setting up partnerships with banks in various countries, and for a startup with no track record, that is challenging.
Nonetheless, Ray says that they already have arrangements in place with BDO, a major full-service bank with 760 branches in the Philippines, as well as two underwriting banks in the United States.
This means that Qwikwire can accept payments via electronic checking capability in the US, and bank transfers for those who possess a US routing number.
And due to the underwriting banks' involvement with credit card associations, Qwikwire works with buyers worldwide that use Visa and MasterCard.
On the seller's side, since legal compliance and bank partnerships take months to sort out, the startup is only offering its service to freelancers in the Philippines for now.
Also not arriving so soon is integration with popular online freelancing platforms, as that will require Qwikwire to gain traction amongst buyers and sellers first before it has the heft to make a case for itself.
An international startup
Although Ray is currently in Singapore to participate in startup accelerator JFDI, he and the co-founders split their time between Philippines and Silicon Valley to be close to both sides of the marketplace.
JFDI's small $11,700 investment is just a start; Qwikwire is seeking more funding to scale up the company's operations. In fact, fundraising was what led the startup to Singapore. Ray says:
We were initially contacted by Golden Gate Ventures, who found us on Angelist and contacted us through LinkedIn. But we were too early for them as we had no product and no traction.
Nonetheless, GGV referred them to JFDI — both entities have close ties — and they made the cut. Hugh Mason, CEO of JFDI, was impressed with their understanding of the complexity of regulations and fraud issues.
Ray's experience starting MoneyTran, an online money transfer service for Filipino workers to send cash home using credit and debit cards, certainly helped.
However, Ray says that "money transfer is an entirely different ballgame" from building a payment gateway.
Here's hoping they hit the ball out of the park.
(Image credit: Qwikwire)
(Editing by Josh Horwitz and Steven Millward)

Facebook Conversation
comments