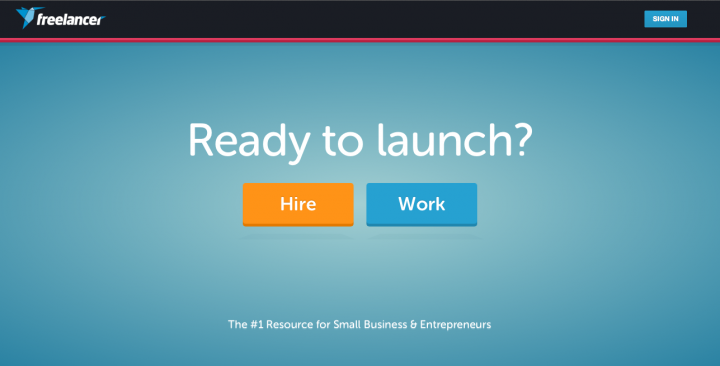 Top global outsourcing and crowdsourcing marketplace Freelancer launched in Thailand last week. This follows launches in the Phillipines, Malaysia and Indonesia with localized sites. This makes Thailand the fourth Southeast Asian nation expansion for this Australian-originated site this year.
Evan Tan, Freelancer's regional director for Asia, believes that the company's expansion can help increase the standard of living of Thai workers in general as the site helps increase their scope of work by engaging with international employers as freelancers. Evan explains:
Currently, 15 percent of Thailand's labor force is either unemployed or underemployed, with the minimum wage set at THB 300 ($10) daily. 4,000 jobs are posted every day on the site with an average project paying $200 or THB 6,200, which is almost the equivalent of a Thai worker's minimum monthly wage.
50K Thai users by year-end
Around the world, more than 4.8 million projects worth over $1.2 billion have been posted on Freelancer to date. Thai professionals who registered on the international version of the site have already earned an accumulated THB 33,400,000 ($1 million), and the company is optimistic that this number will skyrocket in the coming months since the company has officially launched in Thailand.
There are 23,000 registered Freelancer users in Thailand right now and the company is projecting to have twice as many by the end of 2013.
Of course, Freelancer has the advantage of being succesful in other markets, but I can't help but wonder what the company's take on the local players like JobsDB or JobThai, or even a startup like Quest, which is an app that shares the same goal as Freelancer. Evan responds:
As for our competitors, we definitely offer more opportunities as we connect users from over 234 countries and regions. Thai users will not only benefit from jobs they find locally, but also globally.
The site is still in English right now, but Evan confirms that the Thai version will be available soon. In terms of a local office, Evan commented:
As for local staff, we don't have any immediate plan for the moment but we will be exploring this once the market grows in Thailand.
Freelancer doesn't have any local partners yet but it will be forging partnerships with local stakeholders when the time comes.
Thailand is definitely not the last regional stop for Freelancer as the company is assessing other Southeast Asia markets as well.
(Editing by Steven Millward)

Facebook Conversation
comments