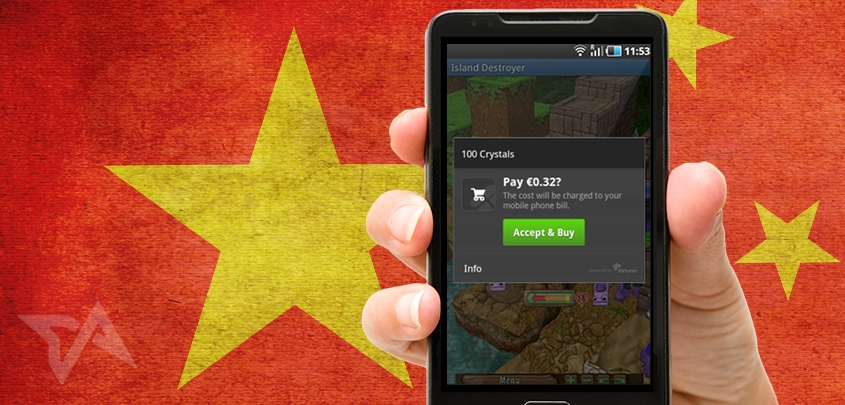 Fortumo, a global service for in-app purchases via your phone bill, is trying something new in China. Today the Estonian company is rolling out Fortumo Expand, a free method for Chinese app developers to make money from selling their wares around the globe.
Gewben Wu, head of Fortumo Asia explains:
While helping top Western developers to monetize their users with mobile operator billing in China, we realized that it's equally difficult for Chinese developers to achieve international success. Due to a language barrier, differences in culture and business practices, it is often difficult for Chinese developers to find the right partners in the West. As we are the only Western mobile payment provider with a local presence in China, our goal is to help local developers bridge this gap and expand their business in new markets
Fortumo set up in Beijing in February this year, establishing partnerships first with China Mobile, then with the nation's two other telcos, to enable Chinese smartphone owners to buy items – in-game virtual items, music, etc – inside apps. But today's announcement is all about the country's developers.
Expanding horizons
Fortumo's head of marketing, Mattias Liivak, says that the new Fortumo Expand is a chance for Chinese developers (on Android and Windows Phone) to go global, especially in less developed markets where there's more room for new developers to come in and gain new users. These are markets like South America, Russia, and Southeast Asia, where Fortumo likes to specialize in turning non-credit card owners into mobile purchasers thanks to its carrier billing support.
(See: Less than 14% of Chinese app developers make a profit, says China Mobile executive)
Fortumo Expand, like the rest of Forumo's network, covers 80 countries. But it's not just about carrier billing for in-app purchases – the new service also offers a "one-stop shop for getting an app launched," including localization (ie: translation) of apps and games for targeted markets. There's also the possibility of popular Chinese-made apps getting a bump thanks to Fortumo's partnership with 25 third-party Android app stores around the world as well as the official Google Play.
No free lunch
Mattias tells us that the whole service would be worth about RMB 12,000 ($2,000) if it weren't free. Of course, it's just free for the initial cost – Fortumo makes money by taking a cut from each in-app and in-game transaction that takes place, so Chinese developers are not getting a free lunch out of this.
Nonetheless, it could prove an attractive proposition for some Chinese startup developers without the means to go global by themselves.
Being initially free, the Fortumo Expand program will evaluate which apps have the potential to do well, and will focus its resources on those. The same applies to which apps should be translated and into which languages. Mattias says that 30 Chinese developers are onboard with this new service already, but he declined to name names yet.
Fortumo's China team has now grown to five people, up from just a couple at the start of the year.
(Editing by Paul Bischoff)

Facebook Conversation
comments