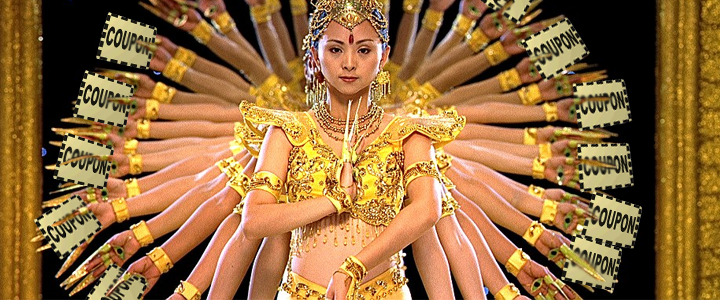 Online retail in India has experienced monumental growth in the past three years. According to a 2013 Comscore report, India has grown 31 percent year-on-year to become the world''s third largest internet population at 73.9 million.
With figures like this, it is understandable that the Indian online market has been identified as a massive opportunity for penetration and engagement. This situation has evidently caught the eyes of international online coupon companies, as a new wave of overseas entities have launched Indian counterparts in the past 18 months.
Newcomers to the Scene
Vouchercloud: The UK-based vouchercloud has experienced exceptional growth in the past 12 months, with over four million app downloads in the UK alone. In a recent release, Vouchercloud revealed that all 12 international territories are performing well and that they are looking forward to even further expansion. One of these recent expansions is Vouchercloud''s India site, which offers coupons in categories ranging from fashion to insurance, with prominent brands being represented.
CashKaro: Another UK-based company, Pouring Pounds has also arrived in India, under the moniker CashKaro. CashKaro has teamed up with over 350 brands to provide coupons and discounts, and differentiates itself by offering a cash back scheme. Simply put, this scheme involves CashKaro passing on to the customer a small percentage of the commission paid to them by listed merchants.
CupoNation: Backed by German internet juggernaut Rocket Internet, CupoNation launched in India recently. With over 500 Indian e-tailers on the payroll, CupoNation aims to encourage and foster the burgeoning Indian e-commerce sector with its coupon model.
Flipit: Dutch-based company Imbull has also recently launched in India as part of their ambitious international expansion strategy. Aiming to create a presence across 30 countries in the long run, Flipit claims to be the only coupon website aiming for such large figures, certainly making it one to watch.
What This Means for the Indian Online Coupon Industry
Innovation
Already a contested and increasingly crowded e-commerce sector, existing players will have to adapt to compete with the new wave of global arrivals or risk falling off the map. To claim and maintain their share of the market, coupon websites will have to think outside the box. This is the beauty of competition; it drives innovation. Comscore has revealed that mobile internet use has accelerated in 2013, growing to account for 14.2% of traffic. With this in mind, coupon sites in India will do well to think about how they can take advantage of mobile platforms.
Customer and Affiliate Benefits
Ultimately, the increase in competition will serve to deliver the customer greater savings, as sites strive to achieve the best value to entice shoppers.
An additional benefit unique to the coupon model is that the more competition that exists in the industry, the more merchants stand to benefit. As far as affiliates are concerned, more coupons on more coupon sites leads to increased traffic and conversions.
Considering the fact that many of the merchants listed on coupon sites are local Indian companies, it also ensures that despite the number of international coupon companies launching in India, the local economy still stands to benefit handsomely.
(Editing by Terence Lee)

Facebook Conversation
comments