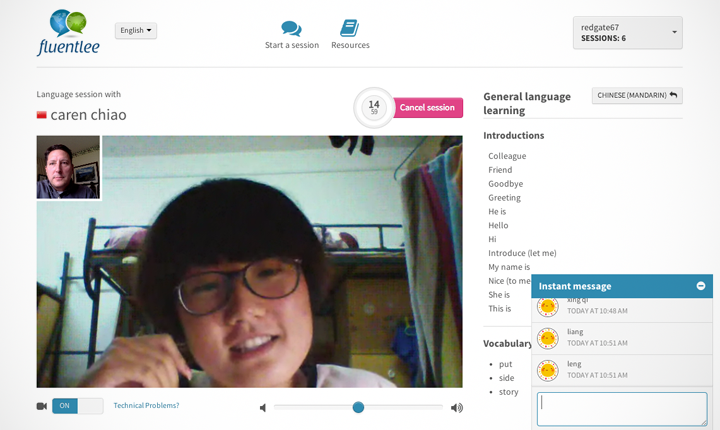 For years, David Bebko, a lifetime marketer, harbored the dream of starting his own company. Yet in 2011, he ended up joining Google as the head of business marketing for Asia-Pacific, believing that if there's one big company with an entrepreneurial spirit, it's the search giant.
But everyone knows that in Google, engineers are king, and they do all the really fun stuff. Everyone else is secondary:
In my particular role, I came to realize that my dreams weren't going to be fulfilled at Google. Great company, great people, but not for me.
David has a strong desire to build. As a marketer at IBM, he worked hand-in-hand with engineers to create a product roadmap. At the same time, he has also grown disenchanted with internet advertising, which has begun to dominate search engine results pages and social networks.
"I started caring more about making a difference, and I started caring less about advertising. Yes, I believe marketing has a role to play in the economy, but I wanted to do something noble," he says.
So David left Google in 2012 to start Crowdworks, a Singapore- and Boston-based company with the long term vision of enabling real-time connections between learners and experts. Their first product is Fluentlee, a pay-to-play language learning site that's like Craigslist and Skype combined.
David picked language learning through a mix of practicality and passion. For crowdsourced, real-time video lessons to work, a platform will need to keep out the creeps and ensure users feel secure. Unfortunately, that means fewer males.
Language learning, David finds, caters to both male and female audiences, with a slant towards the latter. Other skillsets, like plumbing or changing a flat tire (insert engineering here), are more likely to be dominated by male experts.
And since learners often prefer to seek out native language speakers, that means almost all the transactions are cross-border in nature, which minimizes the harm creeps can cause.
David himself is an avid language learner. A Singapore Permanent Resident whose family resides in the island state, he is getting his two daughters to learn Mandarin. Yet, he finds the lack of opportunities to have a conversation on everyday topics is a big obstacle to language learning.
While there's an obscene amount of language learning tools online, Fluentlee's conversational aspect sets it apart from the field. It aims to replicate the experience of immersing oneself in a village in China or going to a foreign supermarket to purchase groceries.
The site is designed to complement popular apps like Duolingo, which helps users learn a language by acting as translators. Also, users are best served if they already know a little bit of a language, since conversations can't happen without foundational knowledge.
No free stuff
To get started, learners must purchase tokens that give them access to bundles of 15-minute lessons, which are a standard format in Fluentlee. There's no free stuff on the website: users can purchase lessons in one-hour, eight-hour, or 50-hour blocks at $19, $15, and $11.96 per hour respectively.
Users then filter for tutors based on criteria like language and conversational topics. Once a match is found, a live chat session is set up, accompanied by an instant message box (in case users want to know how certain words are written), some conversation prompts, and a timer.
Users can quit a session at no cost before a certain time if they find the tutor unhelpful, or they can extend a session beyond 15 minutes. At the end of each lesson, tutors rate a learner's language proficiency, which adds to a "Fluentlee rating" that scores the user on vocabulary, grammar, pronunciation, and comprehension.
Tutors receive a flat $10 fee for every hour of lessons they conduct. Fluentee gets the rest, which equates to $2 for the lowest priced lessons. There's no vetting process involved for tutors, though David hopes the ratings feature will eventually weed out the black sheep.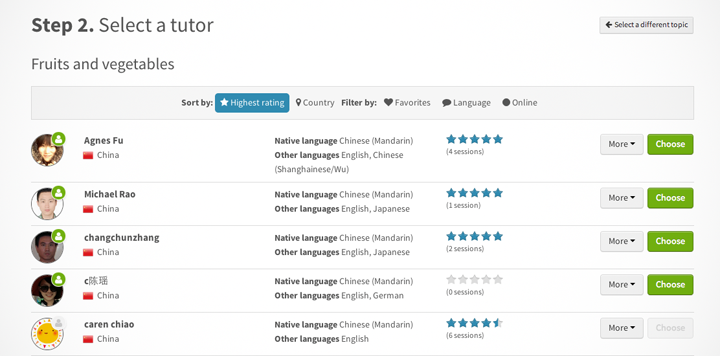 Since launching on September 23, the website has gotten more than 1,400 registered users, with about 800 teachers and the rest students. The users hail from 51 countries and teach 23 languages, with English, Chinese, and Spanish teachers forming the largest constituents. David did not say how many lessons have occurred on the platform.
To succeed, Fluentlee must overcome some key challenges. It competes indirectly with all the other language learning apps, and even traditional language schools, for the busy user's time. While 15-minute commitments are rather low, the site will need a large amount of engaged users to monetize effectively. The affordable nature of starting on Fluentlee may attract learners in droves, yet the sunk cost is lower than traditional classes, which means users may be less likely to commit long-term.
Then there are connectivity issues. The platform is primarily web-based because that's where internet connections are most reliable and speedy. On 3G networks, using Fluentee is challenging.
David has a solution that he hopes will help the platform spread like wildfire around Southeast Asia and possibly India. He has started a separate company called TwoShores to set up physical self-learning centers based on the Fluentee platform. Essentially, anyone can come into these centers, access Chromebooks with a reliable internet connection, and fire away on Fluentlee.
With his wife at the helm, TwoShores aims to launch a flagship store in Singapore in January. It will go regional using a franchise model, and it hopes to set up its first one by the third quarter of 2014.
Fluentlee is fundamentally a global startup. With its Singapore- and US-based core team (none of which are full-time yet) serving business development and finance roles, everything else is crowdsourced, from marketing, customer service, to web development.
While part of it is out of necessity, since they're bootstrapping and need to save cost, David justifies it by saying that since they're in the crowdsourcing business, they'll need to immerse themselves in it.
David wants to stay in Singapore, but…
As the company grows, there's no guarantee that it will continue to be based in Singapore. As much as the country is a rising star in the tech startup ecosystem, it still has considerable limitations.
"I think the likelihood of attracting money is greater in the US than here. The venture capital model there is much more lively compared to Asia. VCs assume that eight out of ten investments will fail. That's a remarkable concept," he says.
The investment scene in Singapore, in his view, is too relationship-driven and business-model oriented. There's less acceptance of investing in web startups, and less comfort with failure. David foresees having a US investor leading a round, perhaps supported by Asian backers.
Nonetheless, David's heart is still very much in Singapore.
I'll be very happy to stay here. The country is a melting pot, a good environment for kids. My daughters have grown up knowing that Deepavali is as big of a holiday as Christmas.
Furthermore, he admires the Singapore government's ability to change, a marked contrast from the political gridlock in the United States. Singapore also possesses somewhat of a startup culture, and he disagrees with public criticism that the country lacks creative individuals.
In any case, Singapore makes sense for Fluentee beyond sentimentality. It's a good regional headquarters for regional expansion, and Asians are generally hungry to expand their knowledge in an effort to catch up with the West. This nationalistic hunger has been observed by 3D printing company Stratasys's general manager in Asia, who said that schools in the region, unfazed by austerity measures, are more likely to invest in cutting-edge educational tools.
And it is Crowdworks' intention to stay in education. David says that his next app will most likely be about teaching math. While there's a lot of great content online, he believes real-time lessons still have an edge due to the learner's ability to give immediate feedback.
David is also hoping to solve bandwidth issues by finding a "happy medium" between photos and videos. A snapshot approach is possible, but the user experience can be a nightmare. Another possibility is to do a hybrid of audio streaming with 3D avatars possessing basic facial features.
All of this relates back to his ultimate goal of making the Internet a more humane place. Google Translate, he says, is a great example, and he has seen examples of how relationships can develop between two individuals encumbered by language barriers using Google Translate alone.
Entrepreneurs either want to be rich, or they want to be kings. It applies less to social-preneurs like myself, who think in terms of doing good.
(Editing by Paul Bischoff and Steven Millward)

Facebook Conversation
comments