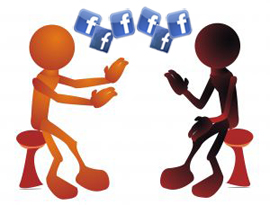 Facebook has its own 2010 list of trends powered by users updates. TIME has also created its very own list based on editors' opinions. Those on the list are among the most talked about Facebook related stories for 2010.
First on the list is 'Facebook Movie: The Social Network'. The buzz started early this year with rumors surrounding the possibility of a film that chronicles the founding stage of Facebook. Then came the teaser video and then the actual preview, which generated talking points (and parodies too).
Buzz volume was probably at its peak when viewers shared their opinions on the movie as it painted a negative image of the Facebook head. The peak is also catalyzed by Zuckerberg's donation to Newark Public School prior to the movie launch. Some argued that the donation was a PR gimmick to act as an "image cushion" to protect his reputation. As a result, 'Zuckerberg Gives Millions to Newark Public Schools' is also included at fifth place in the list. If you have not already known, the Zuckerberg also has also pledged more than half of his wealth for good causes.
Second place goes to '500 million', which is the current number of active users on Facebook. Connecting half a billion people on a single platform is a feat never achieved before. Facebook has become the world's connecting tissues and is the third largest nation only falling behind China and India. The Social Network had also used '500 million' extensively. One of the famous tagline read, "You get to 500 million friends without making a few enemies."
Third is 'Facebook Places', a location based product that allows users to check in to their current location and notify friends on their whereabouts. It is a product similar to Foursquare and Gowalla. The major difference is on the number of users. Facebook has 200 million mobile users ready to adopt Facebook Places while the rest struggle to even achieve 10 million users. With Facebook's large user base, any modest adoption rate would translate to millions of users. That explains why Facebook can be anything it wants to be. Foursquare was widely talked about until 'Facebook Places' entered the location check-in battle.
The viral breast cancer campaign that prompted (and succeeded) ladies to share their inner wear color is also included in the list. That's all for our summarized report. You can check out the full list at TIME.

Facebook Conversation
comments