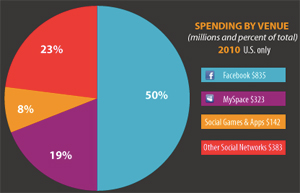 According to Bloomberg's sources, Facebook could hit $2 billion in sales this year.
With over 500 million active users and 700 billion display ads a year, this figure didn't come as a surprise.
If the figure were indeed true, that would mean that more than 60 percent of the world's social networking spending is coming from Facebook. It would also exceed the forecast that Facebook would dominate half of the social ad market (image above).
Facebook is on its way to become the next online advertising giant. There is no debate over it. It isn't just about being cool, fun and having a large user base. The key thing in advertising is data. Facebook has all the needed data for advertisers to target based on our profiles. In a few clicks, advertisers are able to create ads for a specific group of consumers. To advertisers, Facebook is the perfect platform to make sure money are spent on the right target group.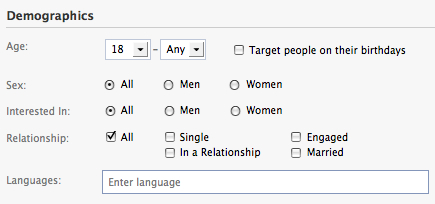 Facebook understands the importance of data too. The new profile page design, as I believe, was changed to spur users to key in more information. Instead of having an info tab, our summary is now placed at the top of our profile. It's only natural for us to fill in the missing information to make our summary more complete and colorful.
Okay, now. Users don't sigh… Nothing is free under the sun. Our information is traded for Facebook's service. On top of that, we are exposed to advertisements. You played a part in Facebook's $2 billion sales this year.
Fair deal, I would say.

Facebook Conversation
comments