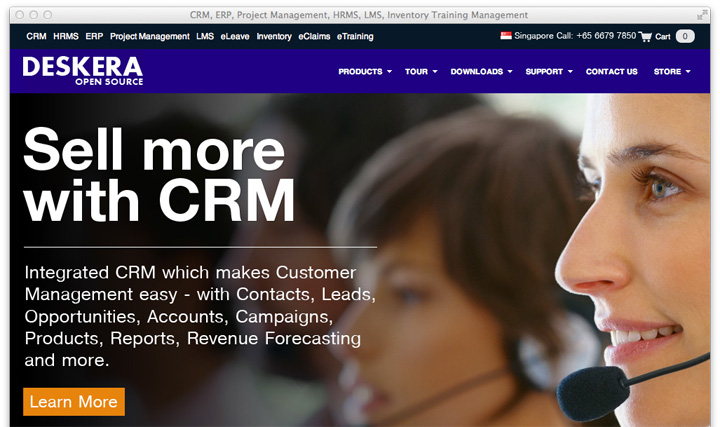 Deskera is a Sequoia-backed enterprise company that provides a full suite of enterprise solutions for its clients, including project management, CRM, ERP, and e-training. The company generated more than $8 million in revenue last year and now has over 150 employees serving clients like Google, Starbucks, HP, and Great Eastern.
Deskera has been profitable since day one and only accepted Sequoia Capital's money to give the company more recognition. "Our first investor is our customers," said Deskera CEO Shashank Dixit.
Like many other entrepreneurs, Shashank could choose to build a consumer-facing product like Instagram or Facebook. But he chose not to. He explained that he isn't the type of entrepreneur who could raise money and built a company without a proper business plan for how consumers would eventually pay.
Shashank said that for the last 30 years, the enterprise business has been ruled by big companies like Microsoft and Oracle. So it is natural for entrepreneurs to avoid building enterprise businesses as the barrier of entry is usually higher than it is for consumer-facing products. And even if entrepreneurs do have a great enterprise product, it is usually harder to scale compared to consumer-facing products.
Shashank explained that entrepreneurs who run a consumer company can afford to be in one city only. Enterprise companies can't because each city requires local support. "The first thing customers ask about your [enterprise] solution is if you have local support," he said.
It's not easy to scale an enterprise company. If you want to have more customers and buyers, you have to be in more cities. Either you sell to more enterprise users, or you fizzle out.
Today Deskera has offices across the world including India, Singapore, Malaysia, and the U.S. Building a product for enterprise clients also means that your product has to be 100 percent complete and solid. In other words, there isn't any "minimal viable product" for clients in the enterprise world. Your product must be free of bugs and provide a full suite of solutions to meet the clients' demands.
"It has to have everything the customer wants; if not they will not buy it from you," explained Shashank. "Of course there are companies in the US that do Salesforce add-ins. But in Asia nobody has Salesforce. So you can't even ride on the coattail. You have to build the entire infrastructure yourself."
Meeting clients demands could also mean customizing for their different needs. "That's the Achilles' heel of the enterprise business. We make sure that the customization is minimal and to the point we can satisfy the customers." To solve the problem, Deskera now has a customization tool for users to add in new fields, columns, or work flows on the front end.
No need for flashy user interface
While user interface is key for consumer-facing products, that may not necessarily be true for enterprise companies. Shashank says that there is an enterprise company in Singapore that sells an ERP system that builds on Fortran, a technology that is over half a century old. Nonetheless, the company was still able to generate billions in revenue last year. "Why would other companies buy their system? Because it is stable and it works. They will not buy because it has flashy look and feel, which a lot of [enterprise] entrepreneurs get confused about," said Shashank.
For entrepreneurs who are looking to build enterprise businesses, I have summarized Shashank's words of advice below:
You need experience. Enterprise is for people who have been in enterprise. If you are very young it is advisable to start working in an enterprise business to gain experience.

Talk to business owners and managers to understand their needs. Shashank noted that a lot of businesses want to understand social media marketing. But a lot of services are often geared towards consumers and not for enterprises.

Wear suits and be well-dressed to look professional. Don't wear a T-shirt and jeans.

Travel to get clients.
On the last note, Shashank encourages entrepreneurs, especially in Singapore to travel for business. "Entrepreneurs in Singapore should think Changi and not block 71," he said.
(Edited by Charlie Custer)

Facebook Conversation
comments