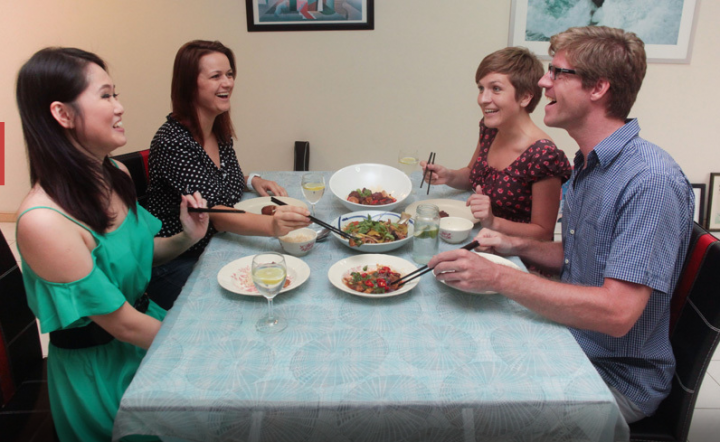 At Tech In Asia, we're always on the search for unique business models and products that hit at disrupt old industries. I'm happy to say, this is one I really like, and I'm not even a foodie. It's PlateCulture.
PlateCulture is a startup based out of Malaysia. It allows users to be able to eat home-cooked meals from local cooks. It's like an Airbnb for food. In other words, it's the ultimate recipe for disrupting the restaurant industry. Why eat MSG-infested restaurant food recommended on dubious old TripAdvisor when you can get home-cooked food from a nice family of your choosing?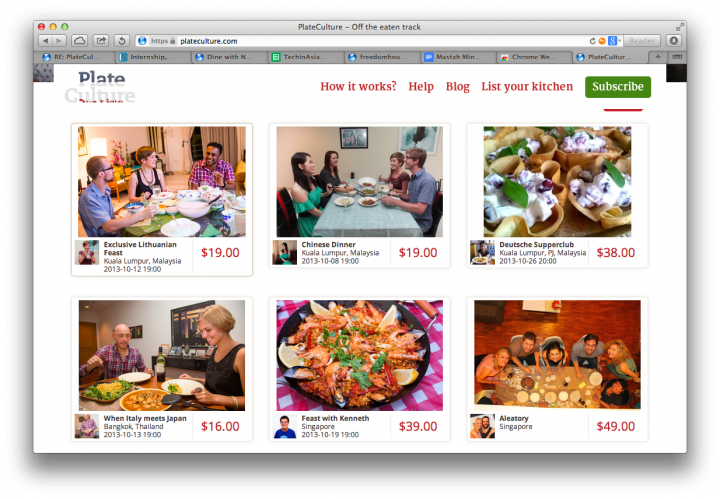 As you can see in the interface above, users can eat interesting dinners or lunches served in cities across Asia. So far, the service has rolled out in Malaysia and Singapore, and is currently launching in Thailand, Vietnam, and the Philippines. So if you're traveling or living in any of these countries, and you want to try food that you wouldn't find in any country, PlateCulture is the place to go. According to Audra Pakalnyte, one of two foodie co-founders, the startup is the only one of it's kind in the region.
So far in Asia we are the only ones in the market. There are start-ups in US – Homedine and Cookening in Europe – setting up similar marketplaces.
PlateCulture is pretty ambitious, though. If you go to the site, you'll see that they're planning to roll out in places as remote as Myanmar and Laos, and developed as Taiwan and Japan. But so far, it's quite early. The site has served over 200 meals since launch in July this year, but the user base is growing fast. This is indeed a joy for the PlateCulture team. As foodies themselves, they've gotten to enjoy quite a few meals. When I asked Audra what her favorite meal was, she said:
Yes, we have tried a majority of the meals, and it's really hard to separate which one is the favorite, as at the end of the day its not about the food, but overall experience meeting people, tasting delicious home cooking, and making new friends from over the world. Each dinner is a unique experience where you have lots of positive emotions to bring back home.
As much as she enjoys it, I think one of the key problems for PlateCulture will be that it is a very novel concept. Airbnb had the luxury of building off of a Craigslist culture, as do most sharing economy models. Audra doesn't pump money into marketing, but rather hopes that world of mouth will promote the concept.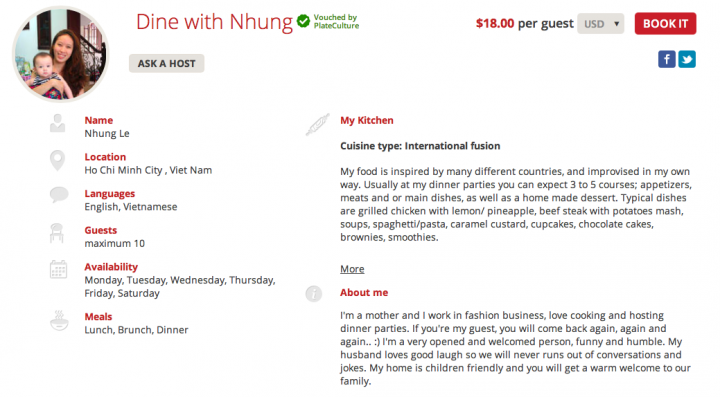 The marketplace for home dining is a new concept, however home dinner parties and underground supper clubs have been happening for years all over the world and Asia. It's especially popular in Hong Kong. For each market we go into, including Vietnam, we prepare a communication message for media about the home dining trend, and also our startup, and yet the best way to spread is world of mouth when people try it out and tell to others – then real stories are told.
So far she's only got one person in Vietnam, but she hopes to grow her numbers considerably over this year.
(Editing by Paul Bischoff)

Facebook Conversation
comments