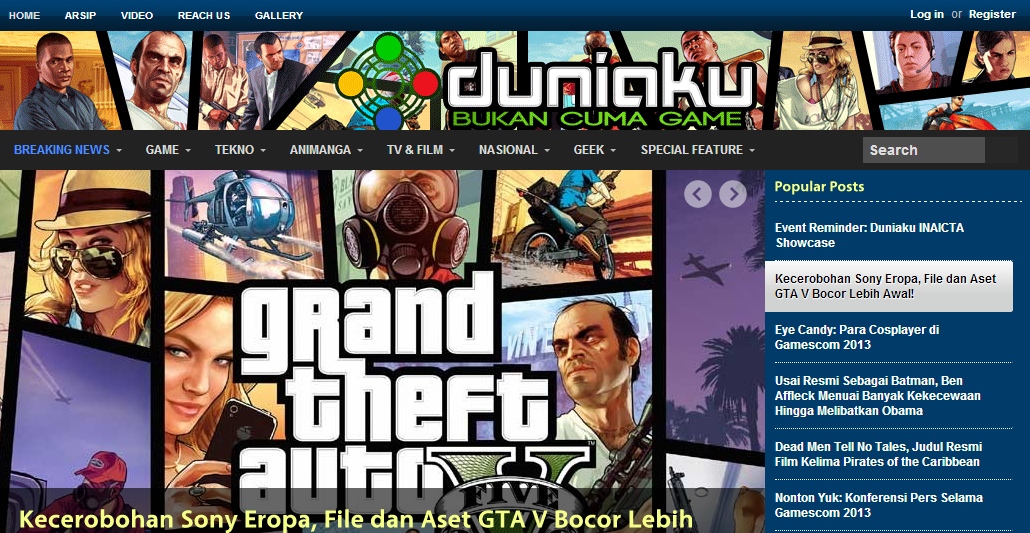 (Updated on August 30th: In the original version of this article, we mistakenly reported that the Indonesian company Prodigy was a potential competitor. In fact, Prodigy is an online game publisher, not a gaming blog, so we have removed the reference to it from the article.)
The popularity of online and mobile games in Indonesia is developing fast and numerous online game media companies have started to provide a community platform for gamers. One particular startup that's standing in this spinning circle is Duniaku, which is an Indonesian online gaming site with content targeted at Indonesian gamers and a platform for Indonesian game developers and publishers to promote their games.
"It's not just about games"
Founded by Ami Raditya and Robi Baskoro in July 2010, Duniaku aims to be the main platform for Indonesian gamers. Along with its tagline 'bukan cuma game' or 'It's not just about games', Duniaku comes up with varied content related to the game industry, including movies, music, animanga, game events, gadgets and more in order to broaden its coverage. Febrianto Anwari, a contributor to Duniaku, Dipta Erlangga, a managing director of Duniaku, explained:
Duniaku delivers fast and reliable news. We do broad articles … so we can get attention from people with different interests. We also cover news in depth and directly, especially gaming events which involve Indonesian game industry.
This varied content might differentiate Duniaku from other game news portals and become one of its major strengths. It is also independent enough to not be affiliated with any game publishers and game developers. This gives audiences a very objective point of view, so Duniaku has loyal fans who are coming back for more.
Duniaku tells us that visitors come from all over Indonesia. He claims that Daniaku has over 280,000 unique monthly visitors with 30 percent of them located in the capital city of Jakarta. The rest come from big cities like Surabaya, Yogyakarta, Bandung, and Semarang. Average visitors range from 18 to 24 years old with 58 percent being male.
Upcoming plans
Duniaku's plan is not only to become the number one gamers' choice in Indonesia but also to be known globally. The game media startup plans to have an English news portal to target non-Indonesian gamers. It will be interesting to see whether Duniaku can sit in the same arena as other famous game news portals such as Gamespot, Kotaku and Joystiq. Duniaku also has to compete with other game blogs in Indonesia such as Gamesaku and KotakGame.
(Editing by Charlie Custer, Steven Millward, and Willis Wee)

Facebook Conversation
comments