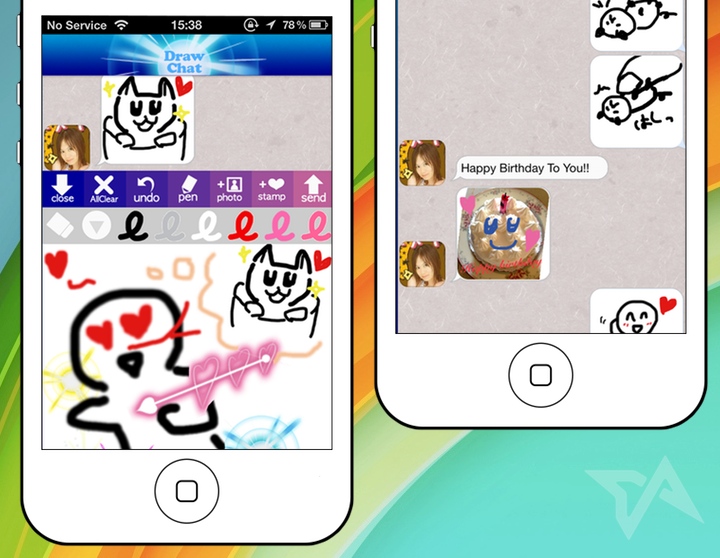 Facebook opened up the API for its Messenger service to developers last year, but we've yet to see much being built on top of it. That changes today with the release of DrawChat for Facebook Messenger, an iPhone app that brings doodling and handmade emoticons into Facebook Messenger.
DrawChat – made by the Japanese startup team that created the popular photo app DecoAlbum – can be used as a replacement for the actual Facebook Messenger app. While DrawChat looks a bit rough and not very polished, it nonetheless has the advantage of not showing that a message has been read until you actually reply to it.
Scribbling and messing around
The custom, handmade emoticons are an interesting touch in the DrawChat app, though they'll be limited by your own dexterity and artistic skills. That drawing element also allows you to play games with friends – a sort of ad-hoc Draw With Friends – or to scribble atop photos. Yes, that's a lot of the things that the cutesie Cubie Messenger has been doing for a while, but DrawChat makes it all a lot more accessible by connecting with your Facebook (NASDAQ:FB) buddies.
Just like Facebook Messenger (and Facebook itself), DrawChat is up against rival messaging apps like Line, KakaoTalk, Whatsapp, and WeChat. Facebook has a staggering 339 million active monthly users in Asia alone, so it's potentially the king of messaging apps if Zuckerberg's squad can get more people to use the social network for casual chatting and messaging.
The startup team behind DrawChat, Japan's Primeagain, promises that more apps based on the Facebook Messenger API are in the works.
DrawChat's iOS app is currently free during the launch period (until September 7), and then it'll rise to $2.99.
---
Disclosure: East Ventures is an investor in TechinAsia and has also invested in Primeagain. See our ethics page for more information.
(Editing by Paul Bischoff)

Facebook Conversation
comments