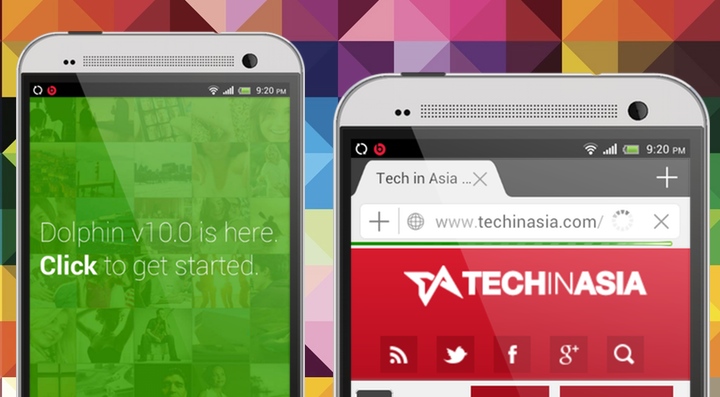 Sino-US startup Dolphin Browser has reached 80 million installs around the world for its iOS and Android browser. Today, Dolphin is also being bumped up to version 10 on Android with a revamped interface and a couple of new features.
The MoboTap team behind Dolphin Browser told us a few weeks ago that they're now targeting new users in Southeast Asia, and that seems to be paying off with with strong growth in Southeast Asia alongside its main user-bases in the US, China, and Japan. It comes pre-installed on KDDI phones in Japan, which is a big boost.
Dolphin Browser reached 50 million installs at the time of its v9.0 update, so it seems to be making solid progress up against a wide range of rival smartphone browsers.
So what are the new features and improvements in Dolphin Browser for Android v10? After playing around with the beta yesterday I can see that the UI is now nicely streamlined to give more viewing space. The previous bottom toolbar is gone, replaced by a semi-opaque dolphin button (pictured below) in the lower-left corner that can spring up to activate one of three things: a summary of all open tabs, a pop-up action bar, or gesture input. Also, you can now drag-and-drop your bookmarks into convenient folders that resemble a phone's home screen folders.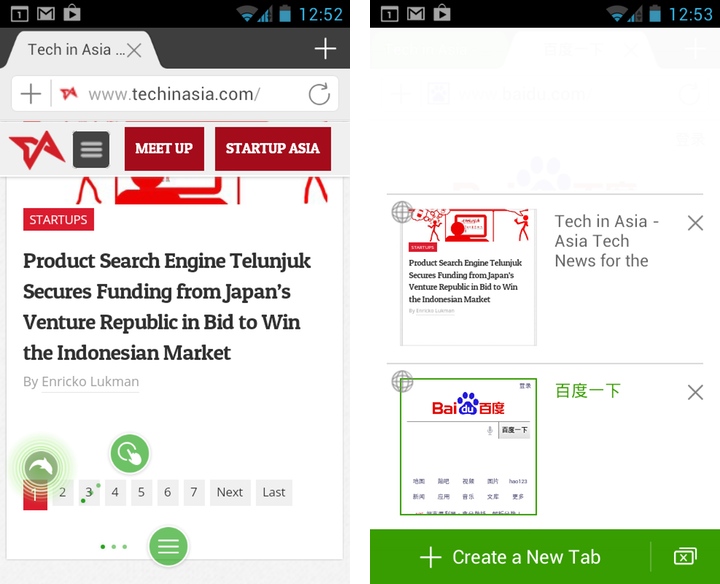 But perhaps the biggest new feature in v10 is a web app store for HTML5-based site. Really these are just links to mobile-optimised sites, but it's still useful. Web apps for Facebook, Twitter, Wikipedia, and over 200 more sites are ready for launch. There are still the familiar add-ons which are powerful extensions that help you access functions like Xmarks bookmark syncing.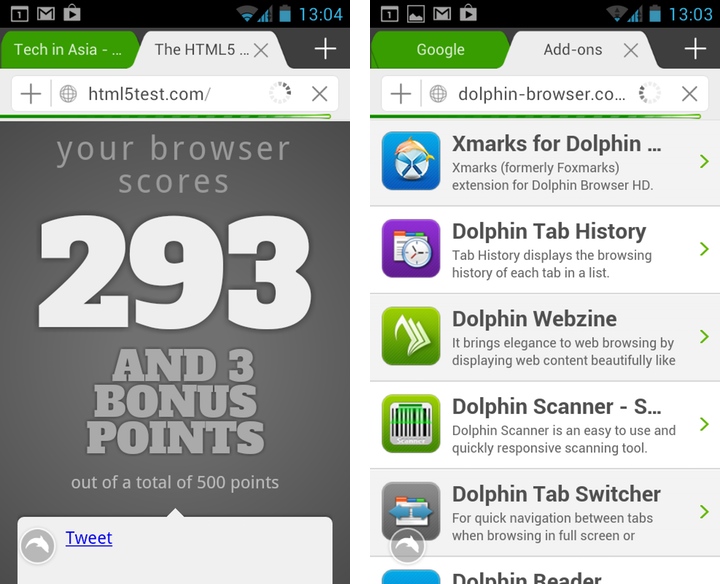 Personally, I don't use the mobile browser much, and a year or so ago I found Dolphin to be ugly and overly fiddly when I tried it then, but the browser app looks better now; and despite all the powerful customisation options it also feels lightweight and speedy enough for occasional users like myself.
Dolphin Browser for Android should be updated by now in the Google Play store.

Facebook Conversation
comments