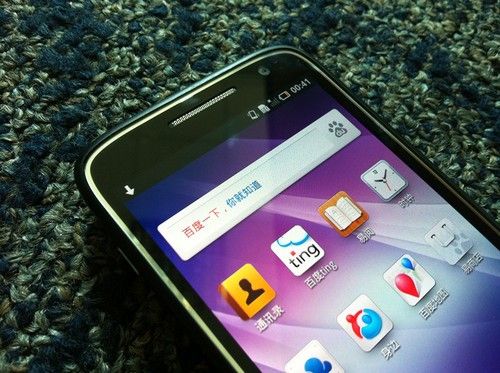 Dell recently announced that it's quitting Android – but that leaves China's Baidu (NASDAQ:BIDU) facing the prospect of losing its most high-profile smartphone partner for its own mobile OS.
The Dell Streak Pro D43 (pictured) running Baidu's cloud-oriented, Android-based mobile OS [1] launched almost exactly a year ago as Baidu's first-ever smartphone vehicle. At the time we described it as a major partnership that marks the Chinese search engine giant's biggest move into mobile. But today, a Baidu representative declined to comment on whether Dell (NASDAQ:DELL) is still a hardware partner in the light of the US gadget-maker's recent announcement.
Baidu also cannot reveal sales figures for its Baidu Cloud OS phones, so it's hard to see how crucial Dell is to its mobile strategy, where it's expecting three times more revenue this year. But from sources in China's smartphone industry we hear that the other two hardware partners for Baidu Cloud phones, China's Changhong and TCL, are actually generating a lot more sales for their budget handsets, as opposed to the more premium-priced Dell Streak Pro D43. If true, it would seem that a global brand-name is not such a crucial factor in smartphone sales in the country.
(Read: Spec by Spec: China's 5 Hottest Homegrown Smartphones)
Dell had been targeting China for its Android phones in 2011, but it seemed the traction was never there, with consumers who bought high-end Android devices instead opting for large-screen Samsung or Huawei smartphones instead. But all is not lost, as Dell is still China's third-most loved PC maker.
As for Baidu, it still has other smartphone market options outside of its Baidu Cloud OS, as seen with the launch earlier this month of the newest Lenovo LePhone, which even features some clever voice unlocking tech pioneered by Baidu.
---
Baidu used to call its mobile OS "Baidu Yi" but that has since been changed to Baidu Cloud.  ↩

Facebook Conversation
comments