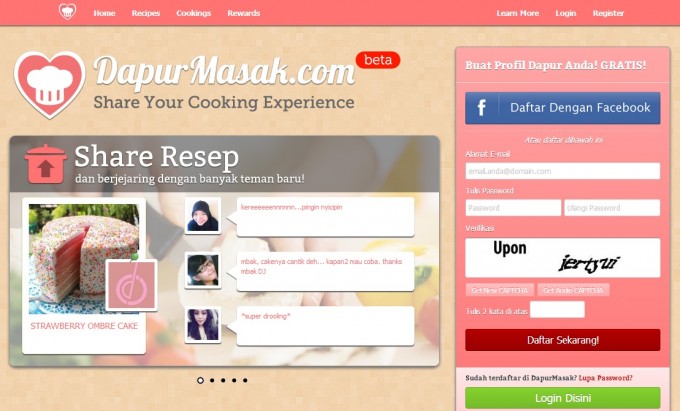 Previously we looked at Indonesian social cooking network DapurMasak and fresh food e-commerce service Sedapur — both created by the same folks, Soegianto Widjaja and Didik Wicaksono. Interestingly these two startups won the Indonesia ICT Awards in 2011 and 2012. I recently caught up with them to ask them a little more about their recipe for success at the event.
In Soegianto's words, DapurMasak is a social network for cooks, with a whole lot of gamification on the site. He further explained that the strength of DapurMasak is that the site engages people to really cook.
The website's focus is simply to let people easily post their recipes and the food they cook. The idea is to spread the recipes and let the other users feel challenged to recreate the same dish. Most often than not, Didik said that sometimes users would modify the recipes themselves to try to create a better dish, and then brag about the result. There are badges and reward points for each activity done in the site. The points can be redeemed for prizes such as cooking tools and vouchers for its compatriot e-commerce site, Sedapur.
Soegianto also believes that DapurMasak can really make a difference for the Indonesian farming industry. He said that when people don't cook a certain recipe for some time, the recipe will eventually be forgotten. He gave the example of velvetleaf which can be used as food ingredients, but if people don't know about it, then the vegetable wouldn't be cooked and there would be no demand for it. In the end, the farmers would not want to plant it, and the velvetleaf will become another wild plant. DapurMasak wants to make sure that this doesn't happen. The site can help introduce the way some ingredients can be cooked, and eventually create more demand for it.
Recipe for monetization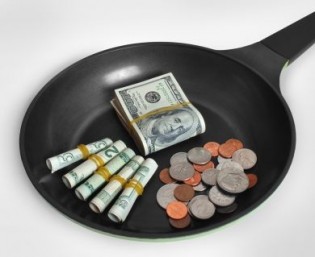 Soegianto told us that there are two ways to monetize DapurMasak. The first is through its cooking challenges. The site offers new challenges to its users from time to time such as cooking using certain ingredients. Brands can become the sponsor for these challenges.
The second one is ads. When DapurMasak tracks that the users are clicking a lot of butter-related food on the site, then the users will see more butter-related ads. The ads can either come from big brands or simply from Sedapur.
Didik shared to me that before INAICTA, DapurMasak, which is still in its beta phase, had 200 users with 2,000 daily page visits. After the award and several tech reviews, the site's traffic grew more than a 100 percent, with new user growth of 30 percent. Unfortunately their target market isn't tech people (it seems like tech people don't cook too much!). The team is in the preparation phase for further promotions and for DapurMasak's official launch.
Soegianto says that they just focused on the kind of problem that they wanted to solve. He believes that the uniqueness of DapurMasak was also key to this year's INAICTA triumph.
[Picture source: SoundMoneyProject.org]
Have Your Say!