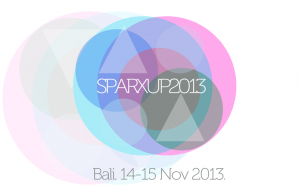 For tourists and locals, Bali is known as a beautiful vacation destination with great beaches and tradition. But if you are interested in the Indonesian tech scene and planning to visit Bali this November, consider attending tech startup conference SparxUp 2013 at Westin Hotels and Resorts.
SparxUp, which is initiated by DailySocial, Kompas, and Klix Digital, will take place on November 14 and 15. Besides a conference, the event also has a startup competition.
The theme of this year's SparxUp is "Putting Indonesia on the Map", and it aims to connect international and local entrepreneurs, investors, and marketers. Another goal is to help foreign companies gain more insight about the Indonesian tech scene and market. Rama Mamuaya, founder of DailySocial and chairman of this year's Sparxup, says:
This year, we want to bring international knowledge to Indonesian entrepreneurs as well as local knowledge to foreign companies trying to enter Indonesia.
Speakers for the conference will include Ray Chan (co-founder of 9gag), Stefan Jung (managing director, Rocket Internet SEA), Anton Seoharyo (CEO of Touchten), Aryo Ariotedjo (managing partner, Grupara Ventures), and more. Most of the speakers attending are successful startups players in Indonesia who understand the local gaming, e-commerce, and social media markets.
If you have the desire to join the startup competition, register before October 15th and you might become the next winner of SparxUp.
SparxUp is collaborating with Tiket for ticket sales and you can still grab yours here with an early bird price of IDR 3,500,000 ($350).
Check out the SparxUp official website for more details.
(Editing by Terence Lee)

Facebook Conversation
comments