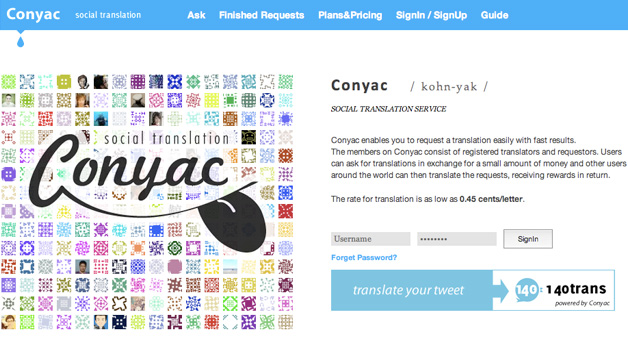 Founded in February 2009, Japan-based Conyac matches skillful translators with users who need help in translation. In short, it is a social translation network matching translators and users in one single platform.
To ensure high quality translation work, co-founder, Naoki Yamada told us that Conyac has an evaluation system between translators to maintain the quality. The evaluation work became more efficient after Conyac launched a Facebook application which helps translators to communicate with each other better.
"Our translators are really open to communicate and share information with other translators. We are trying to build up a huge number of translators on Conyac," said Yamada.
After returning to Japan from the U.S, Yamada and his partner, started working for a company and were often tasked to translate English materials to Japanese. The need for translation from their colleagues inspired them to create Conyac.
"At that time, there is a huge demand for translations. We also wanted to build up a platform where bilingual and trilingual people can use their skills," said Yamada.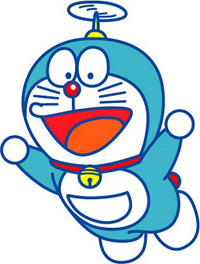 I also took some time to ask how the name "Conyac" was thought of. Yamada said that the name was inspired by a famous Japanese cartoon chracter, Doraemon (right).
"It is a robot from the future and he has many innovative tools. Among his tools, there is a tool that makes you to speak any kind of language instantly after you eat konyac (arum root in Japanese). We slightly changed the spelling of konnyaku to Conyac. We pronounce it as cognac," Yamada explained.
Conyac has grown steadily in the last 2 years. Today, it has about 10,000 users at Conyac.cc and 1,000 users for its new Facebook application.
"Our target number of users is 200,000 within this year," said Yamada.
Users can use Conyac points to pay for translation services. Translators will earn points by helping them to translate their materials. When translators convert points to real money, Conyac will charge a transaction fee. Conyac also provides monthly payment model. For example, at $99.99, the Plus monthly plan allows 35 translation requests each week.
Conyac received a seed investment from Samurai Incubate earlier this year and is now looking for the next investment.

Facebook Conversation
comments