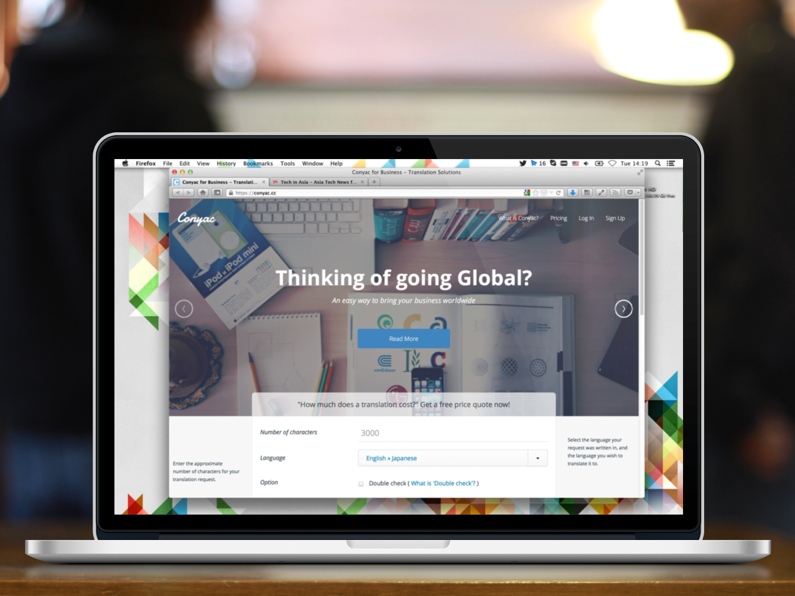 We're seeing a lot of creative online marketplaces thriving across Asia these days. Conyac is one of the most specialized of these – a platform for businesses to crowdsource and recruit translators for short projects.
The Tokyo-based startup behind Conyac has raised another round of seed funding this week, this time to the tune of $600,000. CEO Naoki Yamada tells us that the newest investment will be used mainly for HR and marketing.
Right now, the site supports translation projects from Japanese to English, and from English to eight other languages, including Thai, Indonesian, and French. Despite a good number of supported Asian languages, the site has been focusing on attracting business users in Japan and the US. But Conyac has some expansion plans. Naoki explains:
We are going to focus on the Japan and US markets for the next six months and then expand to Southeast Asia and European markets. Also we are going to have mobile apps for translators.
Conyac aims to register 3,000 companies as enterprise customers by March 2014.
We reported last year that the marketplace was prepping to raise series A funding in 2013, but Naoki explains that's something they'll work on next year instead. Conyac has one major rival that also hails from Tokyo in the form of Gengo.
(Editing by Paul Bischoff)

Facebook Conversation
comments