Over the past two years a steady stream of Taiwan-based startups have been picked to join 500 Startups, the accelerator program founded  by Paypal alum and "super angel investor" Dave McClure. In 2011 the Taiwanese team behind photo app PicCollage joined the program's second batch, followed by messaging app Cubie in October 2012 and then POP in April 2013.
Now, the Taiwan torch gets passed to Bounty Hunter, an online platform that connects brands and organizations with creative talent through competitive contests.
That's contests as in (loud megaphone voice): "Attention graphic designers! 500 Startups needs to make an AWESOME T-shirt to give out to fans and wants YOUR submissions for the BEST, WILDEST designs! Give us your mock-ups and YOU could win a GRAND PRIZE of $500!"
Normally, the man holding that megaphone would have to cross his fingers and hope that the right people heard his announcement. And aspiring designers, meanwhile, might be out in the wilderness, looking for the right opportunity to showcase their talents.
Co-founders Hana Chang and Roxman Yang hope that Bounty Hunter can help bridge this gap.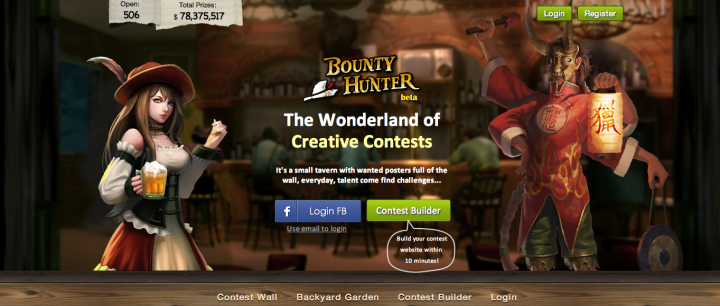 The service has two entry points. On the talent end, aspiring creatives can browse through the Bounty Hunter contest wall, looking for projects that will help them cut their teeth and gain professional clout. Some of these contests are simply aggregated manually by the Bounty Hunter team, while others are officially hosted by Bounty Hunter in one of several capacities.
On the other end, organizations looking to boost publicity and perhaps nab some inexpensive labor can work with Bounty Hunter to ensure good exposure and numerous participants. With its large and active user-base, Bounty Hunter can guarantee companies that a set number of users will post submissions, and takes a fee if a contest is completed successfully in accordance with pre-defined terms.
"When I was young I wanted to be a singer, and I would often participate in singing contests to improve my skills and gain experience," says Chang. "But finding out about singing contests was really hard." Chang later switched her focus from singing to web development, but the call to help others develop professionally through contests, something so central to her own growth, remained strong.

While Bounty Hunter takes businesses as clients, the greater goal lies with the creatives. Using gamification mechanisms like level-ups and rewards, Chang and Yang hope that the most ambitious, driven creatives can use Bounty Hunter to develop a resume or portfolio. It currently has a "Backyard Garden" in beta for artists to show off their work.
5000 miles to 500 Startups
Bounty Hunter's Taiwanese predecessors in 500 Startups were all more-or-less snatched from the cradle, joining the incubator right around the time their products hit screens.
This isn't the case with Bounty Hunter, which was incorporated back in 2010 and has been active domestically since 2011.
The site originated as Yang's fourth entrepreneurial venture (he previously dabbled in novelty USB drives and fried-noodle sandwiches), and he brought Chang on board for her computing chops and passion for contests. The two developed Bounty Hunter as a simple aggregation service for local contests before joining appWorks, one of Taiwan's most active incubation programs, in December 2011. Chang describes that experience as a turning point for the startup.
Before joining appWorks, I knew nothing about startups. I didn't know what 'product-market fit' was, or any of the other entrepreneur-talk. I learned a lot from [appWorks founder Jamie C. Lin]. That's when I started to get really serious about the business.
After graduating from appWorks in June 2012, Bounty Hunter continued to evolve from an aggregation platform to an actual service that collaborates with businesses to launch contests. It's already strong base of registered users helped it land its first contract with Microsoft. Later, deals surfaced with Playboy, Blizzard, and Google, just to name a few.
As it formed partnerships with big brands, the team continued to stay active in the local Taipei startup scene. Earlier this year, while hanging out in POP's office, POP co-founder Ben Lin introduced Chang to 500 Startups' Asia partner Rui Ma. One day later, Chang was pitching her, and the deal was sealed soon after. Chang says Rui was quick to give constructive criticism.
Rui asked us to rethink our business model, because our pricing model isn't really clear. So far it's based on contracts we sign with each individual client Rui asked us to test many different types of pricing models to make it more simple and automatic. She also introduced us to many other investors and founders.
To date, Bounty Hunter has racked up 135,000 registered users, aggregated over 150,000 contests, provided its professional services to over 150 clients. It's also already profitable, which 500 Startups surely took notice of. With Taiwan conquered, Chang and Yang hope to use their time at 500 startups moving Bounty Hunter beyond the island.
"Taiwan is very small. Since we're fitting a niche market, if we were number one here, we're still not very big," says Chang.
While in California, Chang and Yang will busy themselves honing their core product to meet the needs of brands and companies with headquarters in the US. As for users, English-speaking markets will be a target, in addition to Thailand, which Chang has singled out for its strong designer and developer community.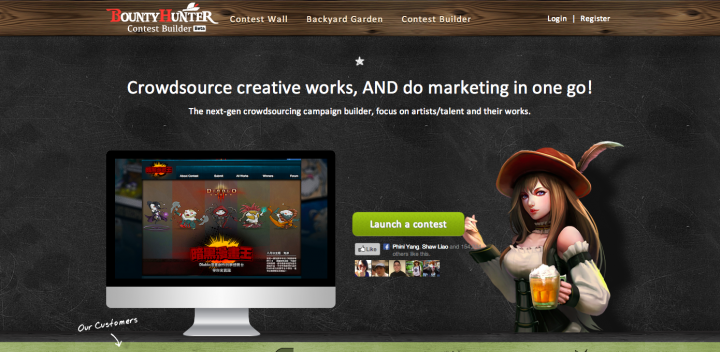 Of course, Bounty Hunter will have its work cut out. Its founders are aware that it's not an entirely novel concept. Platforms like 99 Designs and Genero.tv serve similar purposes, so Bounty Hunter might have to settle deeper into an industry or geographic niche in order to differentiate itself.
"We're hoping for fifty big brands, 400,000 registered users, and double revenue in the next year," says Chang. Given that Bounty Hunter has stood on its own feet for over three years, it's proven that it can take on the challenge.
(Editing by Steven Millward)

Facebook Conversation
comments