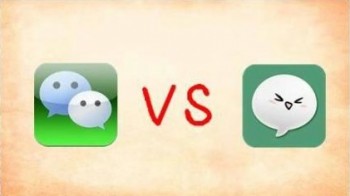 Coincidence or conspiracy? That's the question some Chinese mobile users are asking (mostly in jest) after popular chat app WeChat suffered an outage in China late in the evening on the same day China Telecom and Netease jointly launched the competing chat app Yixin, which we took an early look at last week. China Telecom, after all, controls a significant percentage of China's mobile data traffic; could the company have shut down WeChat traffic? No, but that's the fun conspiracy theory that's getting passed around anyway.
Tencent's official explanation, posted via WeChat's official Sina Weibo account, is that the trouble was caused by some of its networking hardware. As of this writing, WeChat is still down, but we'll update this post when it gets fixed. Update: Tencent has repaired the issue and WeChat is back up in China as of about 2 AM Beijing time.
Looking through the discussion on Sina Weibo about the apps, it seems as though most people see this as a lucky break for Yixin. The WeChat outage may help drive Yixin downloads as chat-addicted users angle for another way of getting their fix. The problem with that, of course, is that none of their friends are on the service yet. Or, as one user put it:
Without a single friend to talk to, how do I use this?
Of course, Yixin's main way of differentiating itself from WeChat is that it allows users to send voice messages to mobile and fixed-line phones even if they don't have the app installed. But leaving friends a bunch of voice messages isn't that exciting if there's no easy way for them to respond. And a few Weibo users have even suggested that the outage is actually an intentional PR tactic from Tencent, a way of making sure that on Yixin's launch day people are still talking about WeChat.
That's pretty far-fetched, but it might end up being somewhat true. I highly doubt that Tencent would cripple its own service for hours as a PR tactic, but the burst of discussion about the outage followed by the app's return to regular service may prove to have been fairly effective in making people forget that the big chat app news on Monday was supposed to be the launch of Yixin.

Facebook Conversation
comments