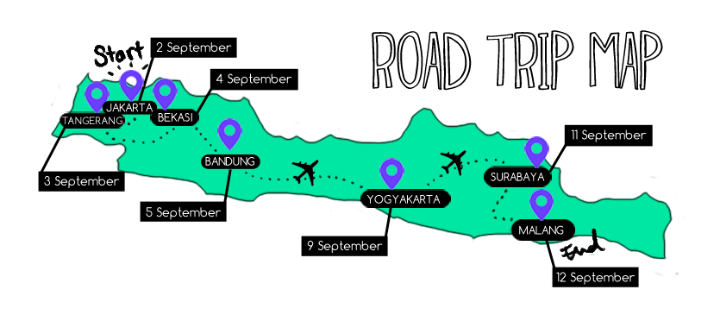 The Indonesian tech scene is definitely one to follow, and we are committed to helping make it bigger by connecting as many talents and startups as we can. The first step is to get to know more people, which brings us to our upcoming seven-city road trip starting next week!
In that regard, we are inviting developers and startups to come and say hello to us in one of the seven cities. Let us know what you're working on at the moment, your concerns and questions about the Indonesian tech market, and about your ideas on how all of us can help grow the community.
What you can learn from the meetup
The confirmed speakers joining us on the tour include Grupara, CyberAgent Ventures, Ideosource, Systec Group, GREE Ventures, IMJ Fenox, and East Ventures 1. The investor panel will discuss three things:
First, they'll talk about the general Indonesian startup scene. This will include talking about potential ideas and markets that people can consider when building their startup. For example, CyberAgent Ventures' Steven Vanada and Liauw Oswin Liandow believe that there is a market for dating and female-oriented media startups in Indonesia. They will let you know in person about the reason behind it.
The second topic is about how startups should run their business, and in what areas venture capitalists can help them. Grupara's Aryo Ariotedjo says that he looks forward to giving some of his take on what an entrepreneur should think about when building a business. Entrepreneurs shouldn't only focus on building products, but also making a business out of those products.
Third is what VC's are looking for in a startup. This will talk about which VC's have funding for startups in Indonesia, how to choose which VC's suit you best, and how to pitch to them. We've written about some pitching advice for startups in the past. You can check it out here and here.
Registration
Startups can also make their pitch and share their products at our meetups. Interested startups can register for the session here.
We will also hold a workshop in each city prior to the meetup for developers. The workshops will talk about how developers can better market and monetize their apps. They will work with companies' APIs and platforms in the workshop. The confirmed companies speaking at the event include SAP, mobile advertising network Vserv, handset manufacturer Cyrus Pad, and Microsoft.
You can find more information about the seven city tour here. As always, we look forward to seeing and getting to know you guys there!
(Editing by Anh-Minh Do and Paul Bischoff)
---
East Ventures invests in Tech in Asia. See our ethics page for more information.

Facebook Conversation
comments