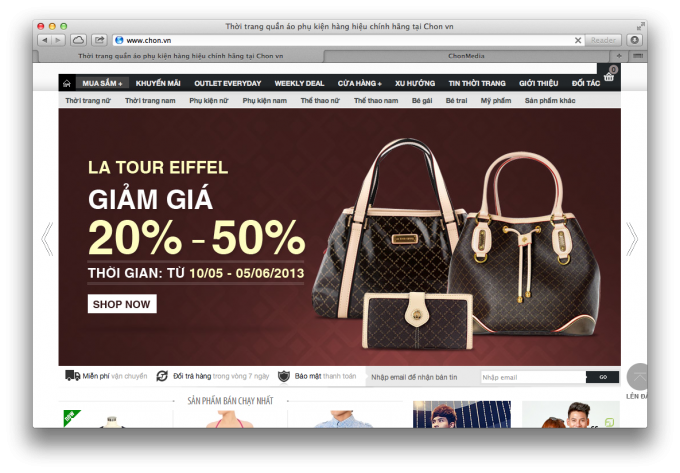 Following Mobivi's recent deal with OCB, an offer that lets online customers buy Chon.vn's products, I grabbed an interview with Chon.vn's ambitious female founder and CEO Le Hoang Uyen Vy. Chon.vn is one of Vietnam's biggest players in the fashion e-commerce space, and therefore one of the key competitors of Rocket Internet's Zalora Vietnam, along with rivals Sendo.vn, and Project Lana.
Vy has an interesting story. She's among the generation of Vietnamese folks who studied abroad and came back to do a startups. But originally, in 8th grade back in 2000, she already started her first company called TMSpeed, specializing in web design and web hosting. At that time, she already had the dream of doing e-commerce. But Vat Gia and eBay had already come to take on the C2C market, and it remains quite crowded today. Thus, after traveling abroad and coming back to Vietnam, Vy set out to build an open B2B2C e-commerce platform focused on fashion. She started it up in 2009, and it went fully live in 2011 after getting initial funding from Vinatex for the humble sum of $400,000.
When they first launched in 2009, Chon only had 27 brands on the site, today it carries over 200 brands and is currently signing on bigger and better luxury brands. According to Vy:
At first, it was difficult because we were new. Our first model was more like online advertising. We would direct customers to the physical location, but eventually, we evolved our model to allow brands to have their own e-store on our platform. When Zalora entered the market, we allowed our stores to have a selling function and switched away from online advertising.
Basically, Chon.vn is a zero inventory model, wherein they have their own fleet to pick up items from the physical stores and then deliver them to customers. Vy says they only have one warehouse for best-selling items.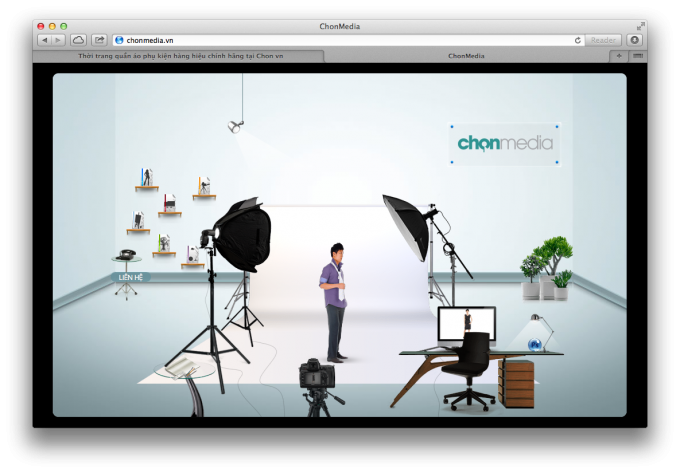 Interestingly enough, the Chon.vn site is only relatively successful with about 100 deliveries per day and 3,000 per month. Vy says their revenue is strong but they're not profitable yet, thus their model is actually subsidized by another business called Chonmedia.vn. Chonmedia.vn is basically a media studio that takes photographs, does branding, builds websites, and organizes events for brands. Much of the media produced at Chonmedia.vn is funneled into Chon.vn to help brands create an online presence. Thus, Vy is proud to say that they're a fashion company through and through. According to her:
At first, it was difficult getting brands on. But today, brands actually come to us and we'll be making some big announcements in the next few months with big brands. In the face of a burgeoning C2C market, we've been focused on bringing reliable brands to consumers, shaping their online presence over just allowing anyone to post.
Currently, Chon.vn has over 37,000 products in its inventory. That's the most products in any fashion e-commerce site in Vietnam, the team claims. 60 percent of Chon.vn's purchases come out of organic searches on Google, so clearly Chon.vn has been focusing strong on SEO.
Vy's goal for the future is to be "synonymous with fashion online for the Vietnamese consumer", in concrete terms that means getting more high-end brands like Nike and Levi's on the site, expanding to have a representative branch in Hanoi, and getting their next round of funding for growth.

Facebook Conversation
comments