Jing.fm was one of the coolest new startups to emerge in China in 2012, a music-streaming service sort of like Grooveshark. But I was so happy using rival Chinese site Xiami – a broader and more established social music site – that I never got round to trying Jing.fm. But now that this startup finally has an iPhone app, launched last month, it might get more traction after a fairly slow start. So it's time to jump aboard; 2013 should be the year that this comes of age.
The Jing.fm site is very cool and minimalist, but to the point that new users will find themselves making a number of button presses with blind luck. My first encounter with the site was not too pleasing either; after registering, I opted to "add some favorite artists" but was then faced with an utterly random assortment of musicians and groups. Yes, that is Justin Bieber right next to Johann Sebastian Bach: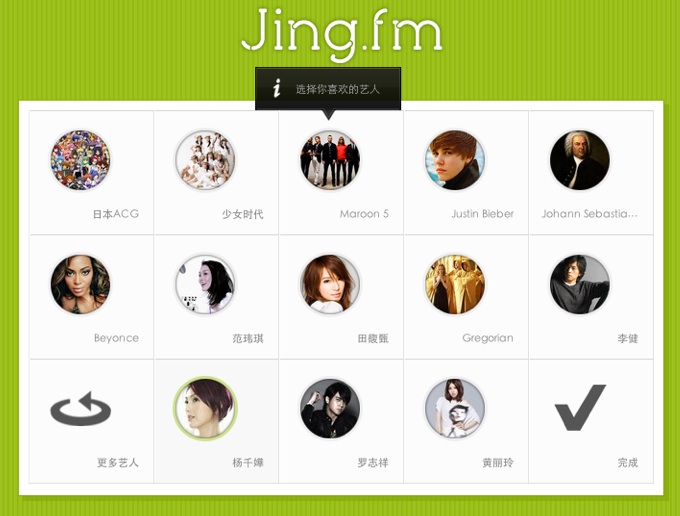 Then I had to click "more" dozens of times until – not being a fan of most pop music – eventually finding some artists that I both knew and liked. Perhaps some people will like this manner of visual browsing, but I found it a pretty frustrating for the entire 10+ minutes that it took to give the service a flavor of the kind of music I'm into.
Thankfully, as soon as I'd made a bunch of selections, music started playing and then Jing.fm became a joy in its great-looking interface (pictured top). The best part is the little rectangle at the bottom of the web app where you can mix up a cocktail of your favorite artists, which then start playing in random order. You have the option to jump to the next, trash the song from ever appearing for you again, or 'heart' it to make that track more likely to spring up for you: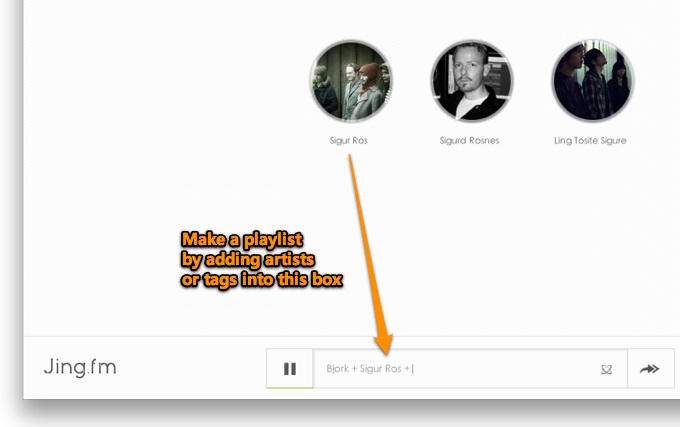 On the whole, there's a pretty wide selection of music both in Chinese and English – with a fair amount of Korean and Japanese pop songs in there as well – and the Jing.fm web app did such a good job of making a magical playlist from my chosen artists that I thought I was listening to one of my favorite iTunes playlists.

This startup's founder is musician Shi Kaiwen, and it's not his first online venture, having previously started up (the now defunct) social music site Koocu. It has not yet brought in any major funding, which I imagine will be seriously needed to grapple with issues like copyright and bandwidth as it tries to grow.

(Read: China's Most Notorious Pirate Search Engine Finally Shuts Down)

Though Xiami has a larger music catalog, and works better for playing an entire album or constructing a playlist manually, Jing.fm should do enough to please a lot of music fans and casual listeners alike. Now, how about an Android app, since that is actually the dominant smartphone OS in China?

Jing.fm's iPhone app is not yet in the iTunes Store; but if you're jailbroken, you can download it here. The startup has made this short demo video of the app in action:

(Video link for mobile readers)





Facebook Conversation
comments