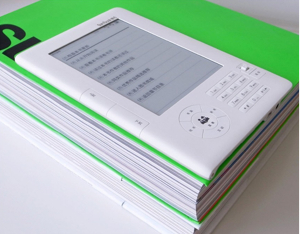 We noted last week that Chinese e-books platform Cloudary wrapped up $110 million in funding. It seems that new investment is sufficient for Cloudary as it has now cancelled its long-held plan for a US IPO.
According to Reuters (via TheNextWeb), Cloudary will withdraw its initial public offering of up to $200 million, citing current market conditions.
Cloudary is a subsidiary of Chinese web company Shanda, and makes the Bambook e-reader (pictured). It was supposed to be heading for a US IPO in the summer of 2011, but that was cancelled amid a gloomy economic outlook and growing distrust of the veracity of Chinese stocks. Market conditions have improved since then, with e-commerce store VIPshop and gaming platform YY doing well with their US IPOs in the past year, but Shanda's Cloudary apparently remains unconvinced.
Now under pressure from Amazon's Kindle
Cloudary – formerly called Shanda Literature – has about 66.9 million monthly visitors on its e-bookstore, according to recent filings. That store is under more pressure recently with Amazon launching its Kindle Paperwhite in China last month. Local e-commerce company Dangdang also invaded Cloudary's space last summer with its own e-bookstore and cut-price e-reader hardware.
Shanda's gaming subsidiary Shanda Interactive (NASDAQ:SNDA; FRA:RZP) is the only part of the company listed overseas after the parent company de-listed.
Last week's $110 million in funding for Cloudary comes from Goldman Sachs and Singaporean investment company Temasek.
(Source: Reuters)
(Editing by Enricko Lukman)

Facebook Conversation
comments