Guest author Julia Q. Zhu is a leading expert on international e-commerce in China and the Asia Pacific region. She formerly held multiple management positions for Alibaba Group, China's largest e-commerce company. Prior to Alibaba, Julia worked for iResearch in Beijing, China's equivalent to ComScore. Follow Julia on Twitter @juliaqzhu.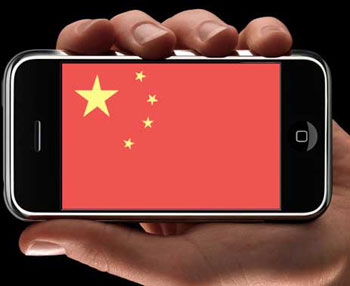 Google (NASDAQ:GOOG) released a new report earlier this week on smartphone usage in China's urban areas.
According to this study, China has one of the world's highest levels of smartphone penetration – of the 97 percent of Chinese urban residents who own mobile phones, 35 percent use smartphones. The market opportunity for Chinese mobile advertising is clearly tremendous.
There are three main behavior traits behind this trend:
---
1. Chinese urbanites use smartphones all-day long… almost
---
Chinese smartphone users are on their phones everywhere, nearly all the time. 53 percent of Chinese smartphone users say that they plan to spend even more time using their phones in the future. China ranks third in the category of everyday smartphone usage in Google's global study.
---
2. High awareness of mobile advertising
---
According to Google's study, 50 percent of Chinese smartphone users notice mobile ads. After noticing a mobile ad:
39 percent click on the ad itself
39 percent search for additional information about the product on their computer
32 percent visit the company's mobile website
32 percent make a purchase
---
3. Purchase-driven smartphone search
---
64 percent of Chinese smartphone users conduct online searches every week. The chart below shows their main purpose for searching online. We can see mobile search helps to heavily influence purchasing decisions.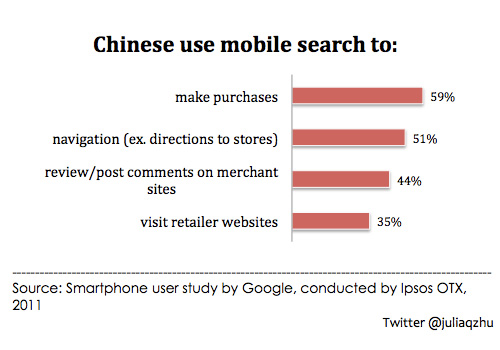 ---
What to advertise and where?
---
Let's break down these two key questions:
What do Chinese smartphone users buy via smartphones?
According to Google's research, popular purchase categories include movie tickets, entertainment, travel, clothing, groceries, home items, cosmetics, and electronic products. It includes almost all the categories of daily life purchases.
Where to display ads?
As mentioned below, half of smartphone users notice mobile ads. They mainly notice mobile ads while on search engines, video sites, using applications and on retail sites (see graph below).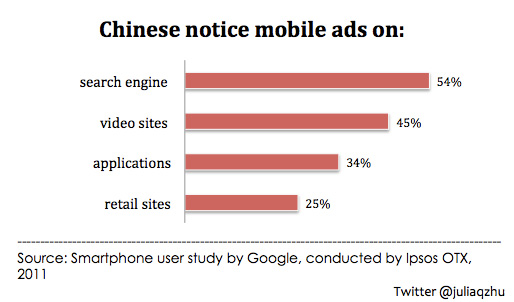 ---
2 tips for advertisers:
---
Instead of considering mobile ads and other online ads separately, advertisers should develop a comprehensive cross-channel marketing strategy which incorporates mobile ads as one part of an overall strategy. In order to achieve the best marketing results, advertisers should be aware of the ties between mobile ads and other online ads.
Advertisers should consider the compatibility of their advertisements with users' smartphones. Among China's smartphone users today, 40 percent use the Symbian system, 20 percent use the Android platform, and 10 percent use Apple's (NASDAQ:AAPL) iOS. Therefore, from high-end phones such as the iPhone, to Android phones, to WAP-oriented feature phones, make sure that the advertisement can display properly for targeted users.
---
Conclusion
---
Smartphones in China have already become indispensable lifestyle and shopping tools for Chinese consumers. They are continuing to grow in importance as they are often used throughout the research and decision-making process of user purchasing. Marketers should seek to make it easy for Chinese customers to find their company via mobile search in order to influence their purchase decisions and heighten their brand awareness.
That's especially true for those advertisers and brands who may have lost the opportunity to win over the China market through traditional advertising media. And so mobile advertising might be the ideal new marketing channel for re-shaping brand preference and quickly occupying a greater share of the market in China.

Facebook Conversation
comments