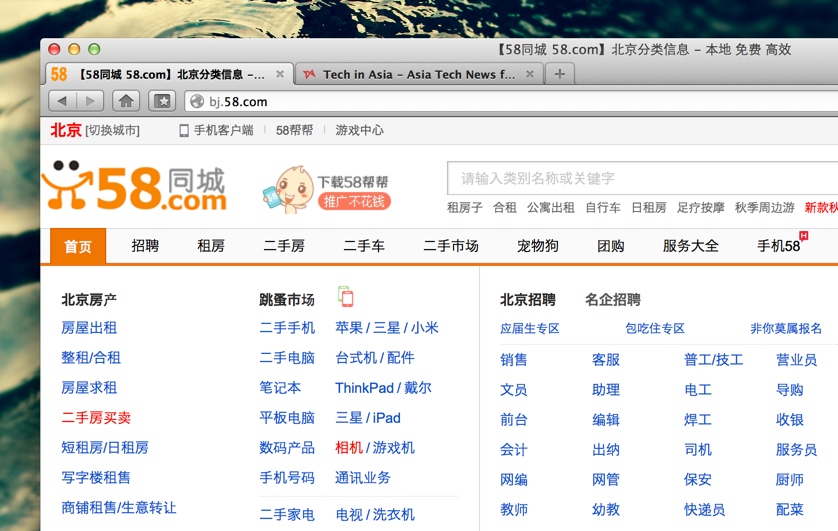 China's biggest online classifieds site – with 130 million monthly unique users – is ready to IPO in the US. 58.com (58同城 in Chinese, which is actually '58City') is set to list on the New York Stock Exchange on October 31, where the company hopes to raise between $170 million and $190 million. Its stock ticker will be NYSE:WUBA.
That would value the Craigslist-style site at over $1 billion. 58.com's roadshow slideshow, which has leaked out today, reveals that its underwriters are Morgan Stanley, Credit Suisse, and Citi. The slideshow also explains how the site works and makes money.
2012 revenues hit $87 million
But in 2012 it made a net loss of $30.4 million
130 million monthly unique visitors, as measured by iResearch
Four million merchants are active on the site each quarter
Courting China's small businesses
With sections ranging from dating to secondhand cars, real estate to furniture, event tickets to job listings, 58.com claims to have two million new listings per day across 380 Chinese cities. It's a mix of old and new products.
58.com monetizes by merchant memberships for things like online storefronts, listing benefits, and customer service. It also offers real-time bidding for merchants who want its premium top listing spot.
In 2012, 58.com had 187,000 paying/premium merchants, up from just 1,700 in 2010. According to the company's slideshow for investors, the site is aiming at an estimated 53 million small and medium-sized businesses in China who could fit in as merchants on the site.
58.com, claiming to be the largest classifieds site in China by revenue, aims to stay ahead with a smooth switch to smartphones and tablets – currently 39 percent of its page-views are from mobile devices.
Major investment group DCM is said to have put in several rounds of funding, and now holds a 16 percent stake in 58.com. 58.com's filing with the US SEC was made last month; see it here
(Editing by Willis Wee)

Facebook Conversation
comments