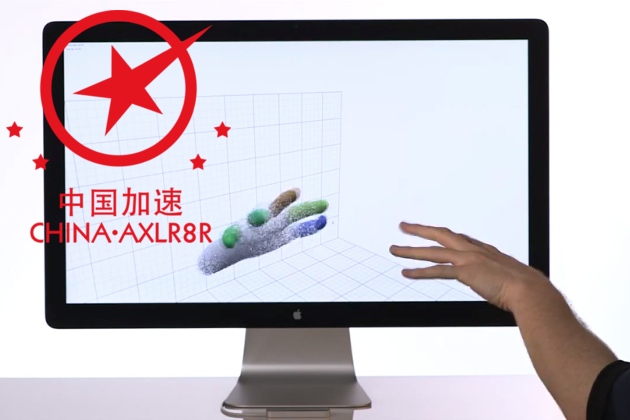 China-Axlr8r – which used to be known as Chinaccelerator – is seeking startups for its summer 2013 intake. The application deadline is May 1st (Wednesday), so interested parties better hurry. There are 10 spots available in the incubator, but two will be reserved for startups building for Leap Motion, the 3D gesture controller that's expected to launch this summer.
Why Leap Motion? That's because, as explained to us by Todd Embley, the program manager at China's funkiest incubator, China-Axlr8r founder Cyril Ebersweiler is an investor in Leap Motion through his role in SOS Ventures (Update: Corrected that relationship). The gesture-based controller has a full SDK for developers to build upon, and will launch with a dedicated app store called AirSpace. I guess the 2013 intake up in Dalian will get plenty of access to the Leap Motion hardware (actually just a tiny box that augments the computer or gadget you're already using), and will be able to build any kind of app or game for that platform. It'd be fun to see some that integrate with Chinese web services.
As for the change of name (I guess "Axlr8r" is pronounced "accelerator", so it actually sounds the same as before), Todd says:
We've slightly rebranded due to our growing family of accelerators backed by Cyril Ebersweiler and Sean O'Sullivan from SOS Ventures. We now have China-Axlr8r, Haxlr8r, and Selr8r, with a fourth in the works for the end of this year in the US.
That latter one hasn't been revealed, but it's quite likely it'll be devoted to Leap Motion developers.
To see what has emerged from this incubator before, check out our list of its 2012 batch of startups.
China-Axlr8r's application form is here, and it's available in both Chinese and English. If you want to see Leap Motion in action, check out this demo video:

Facebook Conversation
comments