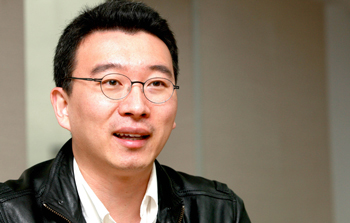 Chester Roh (pictured) started his journey as an entrepreneur at the Korea Advanced Institute of Science and Technology (KAIST), a well-known engineering school in Korea. Chester got interested in the internet and hacking and spent two years honing his hacking skills. (In fact, he was doing so much hacking that he was eventually caught and prosecuted, but thankfully it didn't do much damage to his career).
Knowing that he was good at hacking and computer science, he joined Inzen (a security solutions company serving the government and large corporations) as a co-founder and CTO at age 21. What Inzen did was to analyze the packet data in real-time to detect and prevent malicious attacks. Chester was at his dream job at 21; a place where he could use his skills to do good. He stayed at the company for five years and eventually saw it go IPO in 2002 in Korea.
Xenters was Chester's second company, but this time around he was a founder and leader. Xenters also dealt with cyber security and was started by a group of ex-Inzen members that included Chester. The difference between Inzen and Xenters was that the latter could catch smarter hackers who tried to break into the system slowly and randomly, making it hard to track and monitor their packet data. However, the business didn't succeed as the team couldn't find the proper customers for their solutions. It was shut down in 2005.
Chester then took a break from being an entrepreneur to work at SK Telecom, the largest telco in Korea. At SK Telecom, Chester got his first chance to build a product for consumers. He was put in charge of building an intelligent customized service, named "Adaptive Personalization System," that responded to each user's need and wants, somewhat similar to Google Now. The intelligent customization system that Chester designed wasn't ready for the market and was eventually discontinued, but Chester got his first taste of building products for consumers, which turned out to be an important point of his journey leading to his success at Tatter & Company. He said:
I really wanted to change my career and that is the reason why I went to SK Telecom. Because [in all my career] I was a security engineer, a security expert. I wanted to change my career to the consumer side. I wanted to do something outside [of my norm.]
After his stint at SK Telecom, around 2005, Chester noticed that there was a blogging trend in Korea and was hoping to import a blogging platform to Korea to ride on the trend. He told me:
My initial thought would be to import a blogging software solution into Korea. So I was writing a letter to the biggest blogging software company in the US (back then), Six Apart, who runs Movable Type.
Six Apart didn't reply, but one of Chester's friends, knowing that he was looking for such a solution for the Korean market, sent him a link to Tatter & Company, a blogging platform built by a Korean engineer. Chester elaborated:
It was really beautiful blogging software…so I called him and told him that I was interested in his business and I wanted to work with him.
So in 2006, they co-founded the company with Chester taking the leading role. Tatter & Company builds Tattertools, which is an open source blogging platform similar to WordPress for the Korean market which allows third party developers to collaborate and integrate their ideas into it. Competition was fierce with Daum and Naver, who had 9 million and 13 million users at the time also in the blogging platform arena. But Chester didn't fight based on numbers. It was quality that he was after:
I have a strong conviction. At the time in Korea, blogging wasn't new. But the quality of the content wasn't that good. With search, we need quality content and Tatter & Company is providing all this quality content. So our strategy is clear. We are not taking care of all bloggers but we are taking care of high quality content creators.
Starting in 2006, Tattertools provided services such as allowing bloggers to have their own domain name, their own blog design, and data. While all these sound very common today, remember that they were introduced in 2006. Plus, the rest of the blogging platform in Korea only allowed bloggers to register as a sub-domain and didn't allow much customization. The strategy worked. From 1,000 users at the start, Tatter & Company is now seeing more than 10 million unique monthly visitors.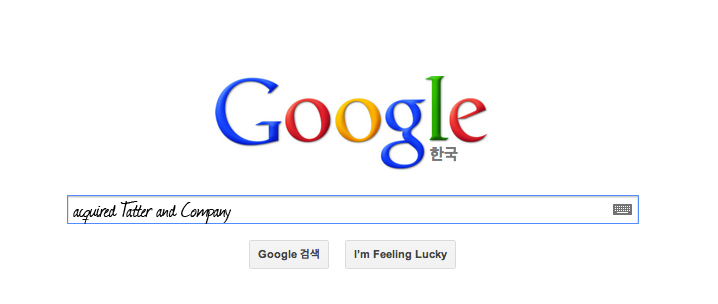 In 2008, Google came in to acquire Tatter & Company when it had more than 200,000 bloggers using its platform. Tatter & Company was also believed to be Google's first acquisition in Korea. Chester reflected back and told me:
All of our engineers were excited when Google contacted us. And in 2007 and 2008, Google was like the king of the web. I felt our engineers were really looking forward to this next challenge in the company so we took that opportunity.
With money and experience under his belt, Chester is now an angel investor investing in local Korean startups. He has invested 15 companies so far with the usual ticket size ranging from $50,000 to $300,000. Some of the successful portfolio companies include Ticket Monster (acquired by LivingSocial) and Dialoid (acquired by Daum). His entrepreneurial spirit hasn't died down either as he recently founded Ablar, a mobile technology company that aims to build different mobile products to serve the world.

Facebook Conversation
comments