Any fan of the American cult classic film Office Space will recognize the scheme. It's called "salami slicing," the act of stealing very small amounts from numerous transactions over a long period of time via a computer. In the movie, three office workers rounded up fractions of a cent from all of their employer's transactions (until they bumble it up and hilarious things happen. Seriously, good movie).
That's how Singapore-based One Cent Movement wants to raise money from your online shopping transactions, except it's for charity. If your total bill comes to $30.75, for example, the plugin will prompt you at checkout to round that amount up to $31.00. Once you've accumulated $10 in total, you will receive an email asking to donate your pledged money to charity. The Chrome plugin supports several large e-commerce sites, including Amazon and Zalora.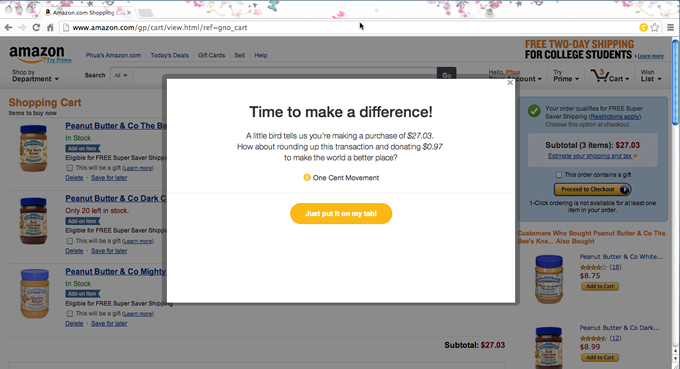 Personally, I would have preferred each tiny sum be donated immediately, rather than letting it accumulate to $10. I'm much more inclined to give a few cents at high frequency than $10 all in one go. But team member Terence Yeo at One Cent Movement says improvements are still being made.
We've made giving approachable and simple. In fact, we're looking to simplify the process even more in the future. By removing the obstacles in the process, we hope that more people will be willing to give back to society, as simple as through their everyday transactions.
He says One Cent Movement doesn't have a dollar target for now, but it hopes to see at least 10,000 users after one year. When users decide to give, they can choose any charity organization listed in the SG Gives portal, the National Volunteer and Philanthropy Council's (NVPC) online donation portal. The team says they can effectively turn a method for crime around into a means for social good. Founder Sung Yi Song says:
We believe in the power of numbers – that it only takes everyone giving a little, to make a big difference. People often want to do more, but find it hard to do so given their commitments […] This is our way of integrating giving into something they enjoy and do often – shopping.
The beta version was just released today, and it only supports US and Singapore dollars. The team, made up of three permanent members and six volunteers, wants to expand to the top e-commerce sites in Singapore next.
(Editing by Anh-Minh Do)

Facebook Conversation
comments