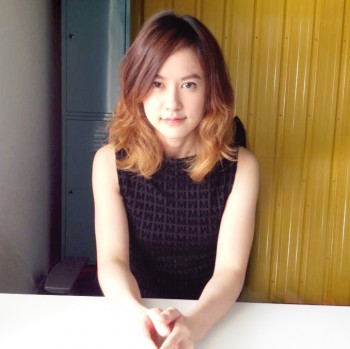 A Thai startup Builk is known for its uniqueness in tackling an industry – one of the world's biggest – that's so un-techie, un-startup-y, and male-dominated: construction. But what many don't know is that this startup has a female COO. Linna Kanoknitanan is the lady steering the wheel at Builk, and she was the one presenting Builk's latest platform SiteWalk at the DEMO ASEAN conference, winning third place.
It's not easy being a COO, let alone for a company that's dealing with masculine stuff. To understand how she does it, we spent some time with her to gather her thoughts:
Tell us a little about yourself
I graduated with a Bachelor of Accounting from Chulalongkorn University, however, I've always been interested in technology. My family runs a construction-related business selling construction materials. So I basically grew up around the industry. I first contacted Builk to advertise with them and met Patai (the CEO). After talking to him, I was interested in working with him. The rest is history.
What's your role at Builk
At first, there was no real job description. I was looking for a general picture of what to do to improve the company. I'm the fifth member of the team. Now I'm the COO, which means, using a soccer comparison, I'm a midfielder that executes the goals set by Patai the CEO. Basically, I identify what we have to do to achieve the goals and what each person's responsibilities are. I make sure every team member brings something to the table and they can add value into the company.

I believe that's what one has to do as an entrepreneur anyway. There's no one telling you what to do. You look for what's lacking then tackle that. You have to always look for ways to improve the company.
How and why did you get started in this industry? What made you decide to be an entrepreneur?
Running a family business at home was easy. It's a comfort zone. But I wanted to do more. Being an entrepreneur is a way of opening myself to more. I can be more innovative and creative, rather than being old-fashioned. It's more challenging now. I have to solve new problems almost everyday.
What challenges did you face in particular?
The biggest challenge for me right now is communicating with users. It's not something I'm good at yet. The product has value in itself but it's hard to communicate to others in the industry. I want to work on my communication skill. We know we have good stuff. Now we just have to sell it. It doesn't matter how good your product is, if you don't know how to sell it, then it sucks. Now we only have the CEO as the spokesperson. So it's my personal goal to help with that in the near future.
How do you seek out relevant mentors and people for help?
My mentor is Patai. But I don't normally ask for help much because his problem solving style is different from mine. So I try to do it myself most of the time. But if I really get stuck then I'd go to him.

I also love TED Talks. I always learn something from that. In addition, now I'm also reading about how to understand human behavior. I'm really interested in learning about psychology. I want to understand what my customers really want.
Do you think your gender has played a role in helping you gain an advantage over your male counterparts? Or has it been a disadvantage in any way?
I don't believe in gender bias. Being a female means I'm part of a small group in the industry. But that's about it. You can prove that we're all equal and the same. I've never experienced any gender bias. I believe that if you prove yourself you can run a business then you can earn trust. Attitude is everything.
In your opinion, what are the necessary skill-sets and attitudes required to succeed in the technology and startup industry?
For both technology and construction industries, the ability to understand others is the most important skill. We can't get to any milestones if we don't know who and what we're trying to serve. There are many times I've seen companies create applications that no one wants. Then it slows down the business.

Understanding others doesn't only apply to customers, but the team as well. I constantly remind myself to always check what the team wants. This is to make sure they are happy to deliver what the company needs. Understanding people around me is the key to success.

However, the most important part is understanding myself. I need a goal so that I don't deviate. I have to know I'm walking down the path to success.
Do you have any role models that you look up to?
Michelle Phan, a YouTube vlogger. She's a beauty guru. I like the way she talks and her attitude. She's an optimistic person. Michelle Phan now has her own brand, too. I believe she has gotten to where she is because she cares about others. That's the same principle Builk has. Our goal is to improve contractor's lives, making construction easy for them.
Do you have any advice for fellow female entrepreneurs?
Since I don't see an advantage of being a female, this advice is for everyone – just enjoy your work. Never look at problems as problems but as a lesson to learn and grow. With that attitude, work becomes more fun.
Anything else to add?
I really hope everyone can enjoy working and find what they love to do. It's important to make yourself happy. I don't really have a clear line to separate my personal life from work. To me, they are both related. So if you are like me, just find a work-life balance. You will not panic when it's Monday and you will not be happy only on Fridays. It's about the attitude.
(Editing by Terence Lee and Willis Wee)

Facebook Conversation
comments