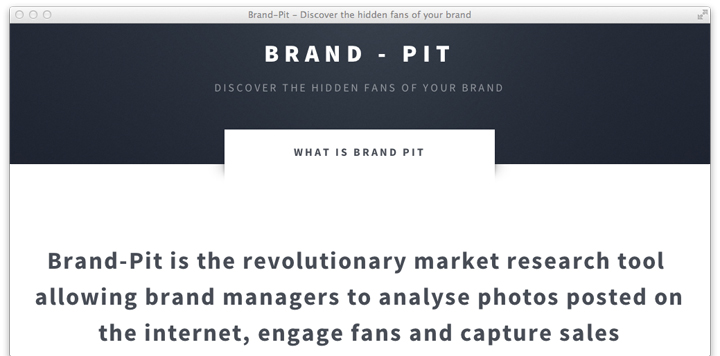 At Tuesday's Startup Sauna event in Tokyo, graced by the likes of Rovio's Peter Vesterbacka and GungHo's Taizon Son, a number of startups pitched, but only one really captured our attention. That startup is Brand Pit, and it turned out to be the winner of the Startup Sauna Tokyo pitching competition.
Brand Pit is essentially a startup that uses object recognition to better help marketers identify their own products on the internet. While it is easy to identify typed copy like "Starbucks," it is hard for machines to identify brands in images. But Brand Pit can do this easily, and what used to take hours can now take minutes.
Once you can identify and track brands, products, and people who are posting those photos, then you will be able to easily engage them by, for instance, showing relevant advertisements or information based on the content of the photo. Chu explains how Brand Pit can identify products and brands within images:
A typical photo comprises of a background and a foreground. We identify and isolate the foreground, then we digitize and convert those foreground into numbers. Finally we match those digital data with our database of brands and products.
Chu also shared how this idea came about:
It all happened while I was preparing for another competition. I was playing with some facial recognition technology, trying to figure a good way to monetize that. And then I have a thought, what if it is not facial recognition but rather product recognition? Wouldn't it be much more fun?

I was already working with image recognition tech for one of my other project anyway, I may as well just spin off a separate project. That was the birth of Brand Pit.
Chu is the sole founder of the company with three other team members helping him on a part-time basis. Chu is from Hong Kong but is currently living and building Brand Pit in Tokyo, Japan. The two-month old startup currently has no external funding.
(Editing by Paul Bischoff and Terence Lee)

Facebook Conversation
comments