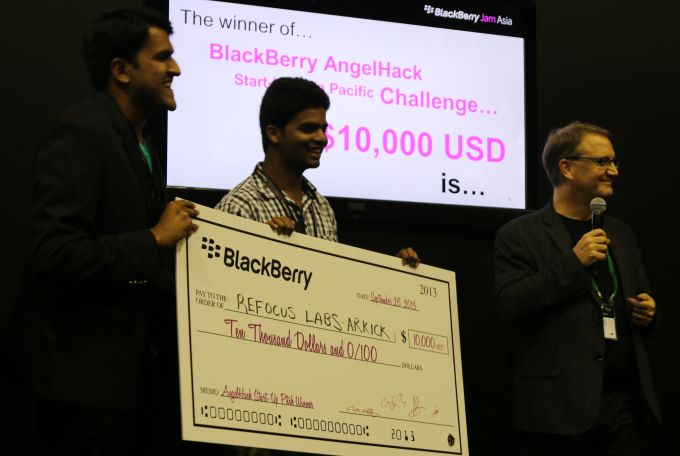 BlackBerry sponsored a regional hackathon put on by AngelHack at its Blackberry Jam conference in Hong Kong today. Eight teams qualified in earlier competitions in their respective countries and were sent to Hong Kong to pitch their new Blackberry apps for a $10,000 prize.
And the winner is…
ARKick by Refocus Labs from India took home the gold. The "contextual augmented reality app," as they call it, was a clear favorite, winning both the coveted cash and the people's choice prize, an iPhone 5S.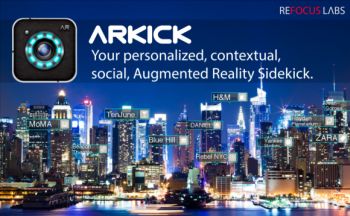 Just kidding. It was a bag full of BlackBerry stuff.
The team has been working four months on its app, which honestly looks amazing. Search any type of location – restaurant, hotel, hairdresser, whatever – and hold your phone up as if taking a picture. Overlaid on your normal camera view will be drop-pins indicating where the relevant results are in real time. Think Google Glass, but on your phone. You can even use it on the go.
It's not an entirely novel idea, but Refocus Labs has incorporated "contextual filtering," which takes note of your location, time, weather, and social triggers to narrow down suggestions. In the morning, it will point out breakfast restaurants. If it's raining, it will return indoor locations. The app also uses Foursquare to recommend places based on past history and friends' favorites.
ARSquare already has already accumulated 4,000 paying customers in its first month. The app costs $3 on BlackBerry World. The team hopes to incorporate Facebook and a friend-finding feature in the future. Here's the demo video:
Your "dream" app
Blackberry conducted a Facebook survey awhile back asking fans to submit ideas for their "dream app." It crowdsourced the best ideas from each country, and sent them to local BlackBerry Elite development teams. The $5,000 top prize went to Vietnam's Goi Taxi, a taxi finding and booking app. The app is not yet available, but keep an eye out for it soon.
The rest
Other honorable mentions included:
Social Infinity from India: a social network aggregator that combines feeds from all your social networks into one.
PageSnapp from the Philippines: transforms your small business' Facebook page into a self-contained Blackberry app.
Dibs from the Philippines: a reservation booking app for bars and restaurants without an online reservation system. It sends requests to a call center, which makes the reservation for you.
Flockme from Malaysia: a Meetup.com-style app that brings groups of people together based on demographics and shared interests.
Frenemy! From Singapore: pulls your friends' info from Facebook to make a quiz game testing how well you really know your Facebook friends.
Pocker from Bangkok: a personal finance tracker that helps individuals monitor where their money is.
Simple Sales Record from Indonesia: a daily statistics report for small businesses that can send transaction receipts to customers.
(Editing by Charlie Custer)

Facebook Conversation
comments