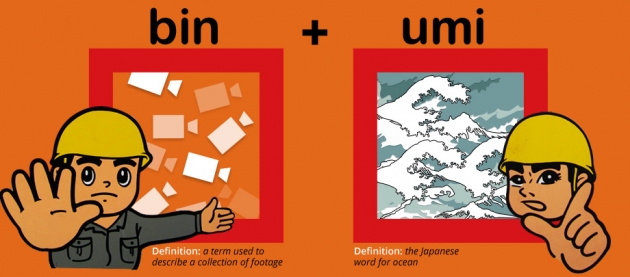 It's rare that I get the opportunity to write about a product that seems more or less targeted at me. But Binumi, a stock video, audio, and image website based in Bangkok, Thailand, is theoretically right up my alley. So it was with profound personal interest that I gave the site a good kick in the tires, before getting in touch with Anthony Copping, the CEO of Last Voices group (which operates Binumi) to put a few tough questions to him.
But let's start with the good. Binumi is a slick site that's extremely easy to navigate, especially if you're looking for video footage or images. Footage is grouped into sequences, and in many of them, the coverage is pretty impressive. So, for example, if you're looking for some footage of a crocodile, you can find this clip, but as you can see, listed below it are more than a dozen other clips of the same sort of thing from the same place. This kind of depth of coverage is potentially very useful if you're trying to use stock footage to construct a complete scene.
Binumi's library is already pretty big, but it's also got some pretty hardcore regional focus: as you might expect, there's a lot of coverage of Thailand. Mr. Copping told me that the company plans to expand quite aggressively in this area, saying:
We have a very aggressive library expansion and would expect a minimum of 20,000 video clips to be added every month for the foreseeable future. These include a much wider country focus and a lot more studio footage of objects as well as BinFX, our motion graphics collection which is starting to roll out.
I pointed out that many of the videos didn't seem to have HD coverage, which makes them much less useful for professionals, or really anyone who isn't working for output to the web. Copping said the company plans to expand its HD offerings, but he also suggested that Binumi is targeted more towards the prosumer/consumer market anyway:
We feel speed of download and storage sizes are very important for this demographic, for instance a student working on a project for a school video essay would find it prohibitive both in time and storage media to work in Full HD. We have tried to cover all basis by providing different sizes with our initial focus being on Consumers, albeit only a few weeks before full resolutions are available.
Binumi's most unique feature is Binmash, which allows users to choose footage, audio, and images from the Binumi library and "mash" them together into a full video via a simple editing interface within the web browser. Users can also upload their own footage and music to their bins and combine this with stock footage from the site. Copping described the feature as "fun, easy and perfect for music videos, holiday and locations shorts, video gifting and messaging, etc." It does seem like it might be cool for some users, although it's not the sort of thing I can get too excited about personally. Still, it's a unique idea and it's good to see a company bringing some creativity into this market.
So what's all this going to cost you? It's actually quite cheap compared to many of its competitors, although the services it offers are a bit different. You can register an account for free, but to use any of the footage, images, or sound from the site, you'll need to either buy credits — the site's virtual currency — to pay as you go or sign up for a full subscription, of which there are several tiers, each providing members with a preset number of credits. The price of a piece of footage depends on the quality you need it in. In 480p, for example, this clip just costs 20 credits, but if you want it in Full HD, you'll have to shell out 200 credits.
It's impossible to say exactly how much that is in real dollars because the price of credits scales depending on how many you buy; the more you buy, the cheaper they get. But even if you buy credits 50 at a time — the lowest, and therefore most expensive, option — you're not going to end up paying much, as 50 credits will run you just $2.99. That's amazingly cheap compared to other stock footage sites, but there's a big catch to that low price: if you want to use any of the footage you've purchased for any commercial projects, you'll need a "Pro" subscription, which runs from $50-$100/month depending on how many months you buy.
The addition of a virtual currency is something that I'm almost always opposed to on principle; mostly, it seems like a way to obfuscate the actual price of things so that consumers forget how much they're paying. Copping told me that Binumi opted to implement a virtual currency because "it provides a similar experience for all and improves localisation, and it increases the ability of us to offer future incentives and special packages." But I don't understand what "special packages" Binumi could offer that wouldn't work just the same with real currencies, and from a user's perspective, I don't really see any advantage to having a virtual currency system.
Here's the real kicker though. Those credits you converted your hard-earned dollars into? They expire. And what's worse, they expire after just thirty days. I asked Copping to explain the rationale behind this, saying that to me it seems like a rather naked attempt to cheat people out of getting the product after they've already handed over their money. Here is his response:
Our aim is to provide working environment and a tool for creatives at an incredible affordable prices by offering subscriptions. Subscriptions come in monthly blocks and we felt this should be spread across all users to promote activity.
Perhaps I'm missing something, but that doesn't make a lot of sense to me. Yes, subscriptions are monthly, but I don't see why that means credits need to be. Frankly, it just seems like a way to punish consumers who have put their trust in your company by giving you their money. Economically, sure, it's a no-brainer — Binumi gets something for nothing every time a user forgets to use a credit within 30 days of its purchase. But if stealing from forgetful customers is part of your business model, maybe you need a new business model.
I do understand how it could promote activity; people will feel compelled to download something when the alternative is just wasting their money. But I don't think that kind of activity, that feeling — the rushed push to choose something you may not be satisfied with to avoid losing a few dollars — is something that a company whose goal is serving its customers should promote. Any company needs to balance the needs of its customers with its own financial needs as a business, but this aspect of Binumi feels decidedly one-sided. There's nothing about expiring credits that is good for users. I mean no disrespect to Copping or the folks at Binumi, but I find this kind of policy unnecessarily exploitative, and personally I would never knowingly patronize a site that employed it.
But I'm just one man. What are other users saying about Binumi? It seems to be too early to say. I asked Copping how the site was performing so far, and he told me:
At this stage we are still very early in our launch strategy, we have not done any interviews, press releases, or marketing activity. We are focussing on continued testing and have number of trial schools in process. During June we will ramp up our presence and start spreading out, however our feedback has been positive, but our early stats are not a current focus.
Fair enough. The Binumi team has also apparently had some difficulty with its Thailand headquarters, and what Copping told me may sound familiar to entrepreneurs in many locations across Asia:
We have found it very difficult to work in Bangkok, both in finding key IT professionals and very poor Internet infrastructure. However, this has been balanced by the excellent Thai team who have considerable passion, commitment and work ethic.
In addition to the media expansion Copping says is coming later this spring, Binumi will also be rolling out a new product called BinStory. Copping explains:
Within the next few weeks we are launching StoryBin which will allow you to make instant stories from your Bin collections. Drag and drop editing and additive FX allows you to make short stories putting your shots in a narrative order. Additionally every shot will always give you Binlinks to other shots that might be suitable for your next shot instantly. Please note your Bins can include uploaded footage, music and photography of your own.
Sounds interesting!
I am impressed with Binumi's dedication to depth in its catalogue, and I like the focus on storytelling and the idea of giving tools to internet users at lower — much lower — price points than professional stock footage sites do. It will be exciting to see how the site expands over the next few months as its library and product offerings grow. But I really hope that at the very least, they'll ditch the exploitative policy of having credits users have already paid for expire after just 30 days. Why punish users who have put their trust in your company by giving you their hard-earned money?

Facebook Conversation
comments