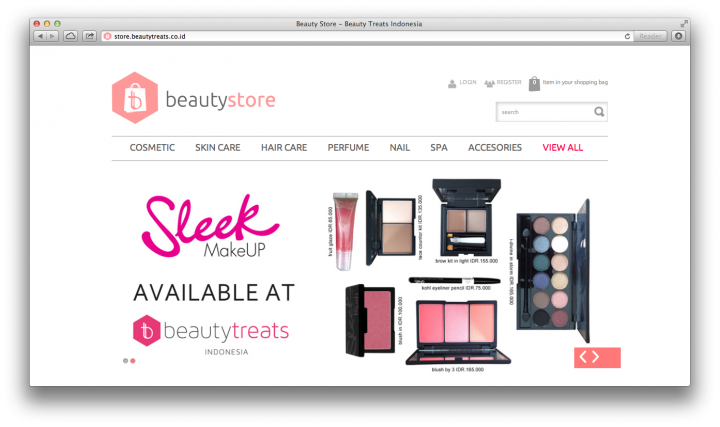 BeautyTreats is one of the first startups testing the Indonesian market for monthly beauty box subscriptions. It's been met with steady yet slow growth in the last six months, and so the BeautyTreats team is launching a beauty products e-commerce site as well.
The startup has shipped 3,000 boxes in the last six months to 7,000 members. Co-founder Romeo Reijman claims that the site had around 100,000 unique visitors and 500,000 pageviews last month. The team is positive that it can double that number next month following the launch of its beauty store and blog.
Challenges for beauty box industry in Indonesia
"It's hard to scale the number of boxes," says Romeo. But he had anticipated this since the beauty box concept – indeed, all subscription offerings – is still very new in Indonesia, and he believes that this applies to the other beauty box startups too.
He adds, "It takes time for brands to trust this concept and understand the impact it has on their marketing, brand appearance, and eventually sales." The team also faced difficulty in getting more sample supplies in large enough supply in a short time because 80 percent of all cosmetic brands in the country are foreign brands. So the problem doesn't lie in the demand, but more on the supply side.
Offering only beauty boxes won't be sufficient for now in Indonesia, that's why the team is opening the more conventional e-store. It offers a wide range of beauty products like skin creams, perfume, nail stuff, and spa products.
Upcoming plans with Beautiplan
Denny Santoso, the guy behind Beautiplan, a social network for make-up lovers in Indonesia, is a shareholder in BeautyTreats. Romeo hinted that his team has something brewing in the form of cooperation with Beautiplan in the future.
BeautyTreats is facing stiff competition from other startups in the same beauty box sector, such as Lolabox and VanityTrove. The former site focuses on beauty boxes while the latter also has a social network built into it.
(Editing by Steven Millward)

Facebook Conversation
comments