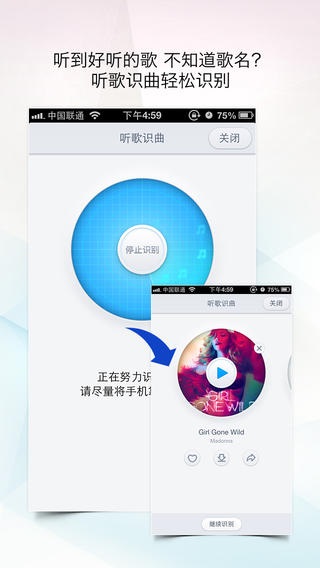 Baidu (NASDAQ:BIDU), China's largest search company, has released a new music recognition feature for its Baidu Music Android and iPhone apps.
The technology is similar to services like Shazam (which is also available in China) and SoundHound, which detect songs played over the air and match the 'fingerprints' to a database of music items.
Baidu Music relies on millions of music items in its records, obtained from licensing deals signed with music labels. It syncs with 17 music lists, including those from Billboard. The app is only available in China.
Chinese rival Tencent also has a music recognition app, although it detects songs by analyzing recordings sung by users at the computer.
The music search technology has been developed at the Baidu-I2R Research Center in Singapore. Launched last year, the center is a joint collaboration between the Chinese search giant and Singapore government research agency A*STAR.
Tech that has come out of the initiative include a phone-unlocking feature on the Lenovo A586 smartphone that uses voice, and also a Thai language processing technology that is utilized in Baidu's Thai-English online translation service.
(Edited by Willis Wee and Steven Millward)

Facebook Conversation
comments