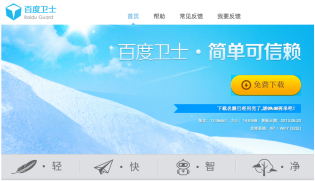 Earlier this week, Baidu launched its Chinese antivirus suite, taking a strong step directly into Qihoo 360′s territory. Yesterday, the company pushed even further into Qihoo's market, launching the beta version of a new PC security program called Baidu Guard to compete with Qihoo 360′s 360 Safeguard.
Unsurprisingly, Baidu Guard appears to be very similar to Qihoo's; both offer a sort of all-inclusive computer protection suite that includes everything from antivirus sweeps to system speed-ups. So, just as Qihoo launched a competing search service to take on Baidu, now Baidu has retaliated by launching a full suite of computer security products. This is likely to get ugly.
Downloads of the new software are currently being artificially limited, with Baidu offering just 1,000 downloads per day. The feedback on the service's user feedback page looks pretty good, but as the company is likely filtering the comments that appear there in some way, it's probably not an unbiased source of information. We've contacted Baidu for comment on this story in general and also to see if we can weasel our way into this beta so that we can take Baidu's new software for a spin and kick the tires.
(Sohu IT via Marbridge)

Facebook Conversation
comments