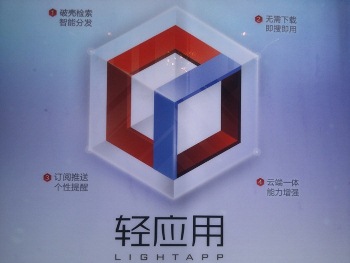 Baidu today announced its Light App (page in Chinese) distribution platform at the Chinese search giant's Baidu World conference. Light App is basically a way for other apps to run without actually downloading or installing them. It's particularly useful for "low frequency" apps, ones which are only used once in a while. For instance, travel apps or an app for a particular restaurant needn't be installed permanently. Instead, users can run the app in Light App without any downloads or installs. And because the app runs on top of Baidu's (NASDAQ:BIDU) software, that means a lot less coding for developers on the backend.
Light App basically opens up to a search bar where users can type in the type of app they are looking for or the exact name if they know it. Search results will provide a list of choices for those one-off tasks that aren't worth downloading a native app for. Baidu says Light App will help better distribute little-known apps. Right now it only has a few dozen available, but the doors were opened to developers today at Baidu's Beijing event.
It will be offered with the other tools in Baidu's development suite, including Cloud Push, SiteApp, and Appbuilder. Baidu is offering Light App as a free distribution channel for now, at least until it gains some traction. Developers can earn revenue either through in-app advertising or actual purchases, pretty much like any other app.
(Editing by Steven Millward)

Facebook Conversation
comments