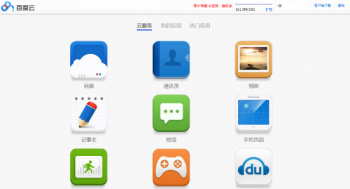 At an open media event yesterday, Chinese search giant Baidu shared some pretty impressive numbers about Baidu Cloud. The cloud platform, which includes everything from word processing to music streaming and photo storage, now has more than 70 million users, and is currently growing at a rate of 200,000 new users per day. No, I didn't mean month, and yes, that's crazy. Baidu also said that the service now has an average of 2 million daily active users.
Of course, these are self-reported numbers, so the degree to which you trust them depends on how much you trust Baidu. (So, if you're Zhou Hongyi, you're probably shaking your head right now).
Baidu is currently competing with Qihoo 360 both in the search and security markets, but Qihoo doesn't currently have a comprehensive cloud offering, so this is one area where Baidu may be able to grow without too much competition — at least for now. But as we wrote earlier this morning, Qihoo is reportedly planning to expand its search options, and it seems like just a matter of time before the battle between the two spreads into the cloud.
Of course, there are also a number of other domestic cloud services, but none of them are quite as broad as Baidu's slate of offerings, so there may not be a true competitor until a big company like Qihoo or Tencent throws its weight behind building a broader, multi-faceted cloud platform.
(via Sina Tech)

Facebook Conversation
comments